I love new and different things in cocktails!  And because I have a fondness for flavoured vodkas, when I spotted a wild tea flavour recently, I was really intrigued and impulsively purchased it without knowing exactly how I was going to prepare it, other than using lemon in some way.
So I made a zesty lemon syrup which was perfect for the wild tea, but I'm sure would also work with a lot of different flavours.
I loved the smooth tea flavour paired with bright, sweet lemon.  And I love my lemon things really, well lemony, so keep some sparkling soda water on hand to dilute it as much as you prefer.  Oh and make sure everything is lovely and icy cold before you use them (I always keep my vodka in the freezer).
Enjoy responsibly and all that.  One of these was enough for me (me = lightweight²).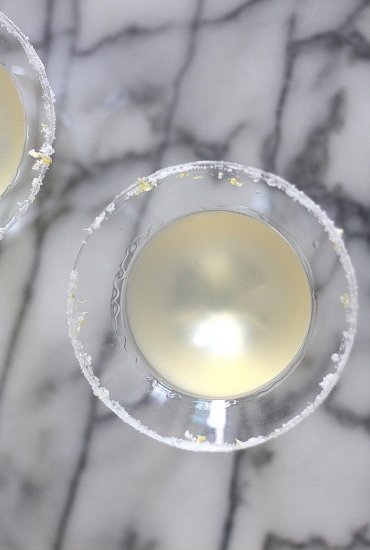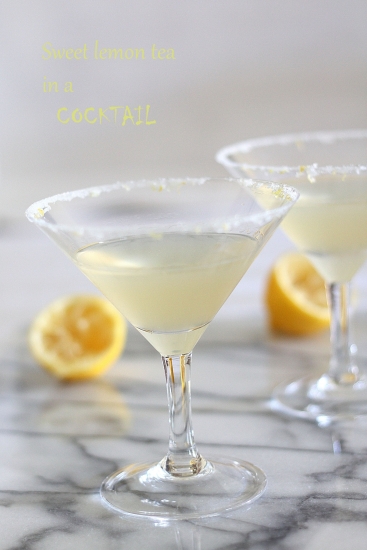 Recipe for lemon iced tea cocktail:
Absolut Wild Tea vodka (you could also try plain, citrus or berry flavoured vodka of your choice)
Cointreau
Sparkling soda
Lemon syrup:
1/2 cup sugar
1 cup water
100mls freshly squeezed lemon juice, sieved
1 heaped tablespoon white sugar and lemon zest from 1/2 a lemon mixed on a plate
Wet sides of cocktail glasses under tap and dip into sugar/lemon zest mixture, twisting glass around to get a good sugar crust.  Stand glasses upright and allow sugar to harden – for extra cold cocktails, store glasses in the fridge.
For every cocktail add: 45mls vodka, 60mls lemon syrup, 10mls Cointreau and a splash of soda water.  Stir to combine the ingredients.
Lemon syrup:
Bring ingredients to the boil, stirring until sugar dissolves then turn down to low/medium to simmer for 5-8 minutes until reduced and very slightly syrupy, stirring regularly.  Chill for a few hours until very cold.  This will keep for a few days in the fridge.
Makes: around 1 1/4 cups lemon syrup