I've made no secret in the past of my liking for Mexican food so I thought I'd throw some Mexican inspired ingredients on top of a pizza base and it was delicious – easy, yet spicy, crunchy and full of flavours and textures.  This rustic pizza has it all; spicy beans, corn, creamy avocado, zesty sour cream, fresh tomato and crunchy corn chips.  To make things easier, I used a store bought pizza base and made sure it was on the thin side (a thick one would be too much with this hearty topping I think).
This would be great to serve with a few Coronas and lime when you have friends over!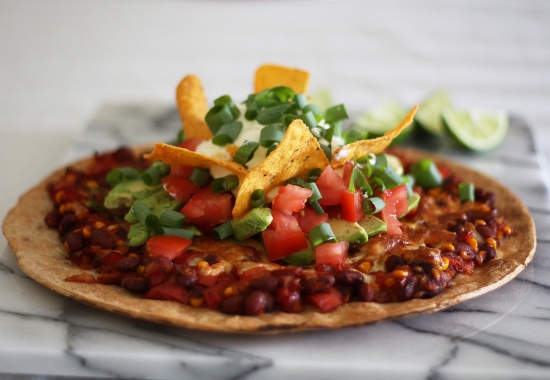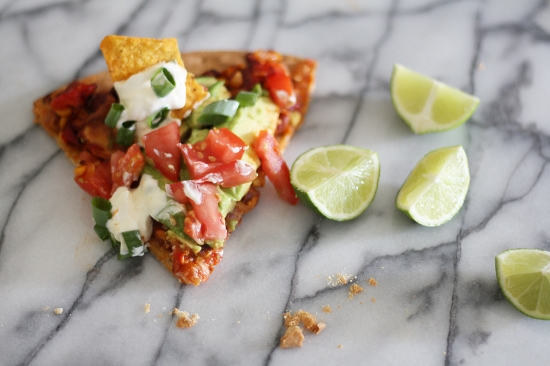 Recipe for Mexican pizza:
Mexican topping;
15mls grapeseed oil
1 small red or brown onion
1 clove garlic
1 medium red capsicum
pinch chilli flakes
1 tspn ground cumin
1/4 tspn paprika
Seasoning
50g tomato paste
2 small tomatoes
80g sweet corn kernels
300g tin kidney beans, rinsed and drained
1 wholemeal pizza base
Mozzarella cheese, coarsely grated (a decent handful)
1 large avocado, sliced
100g sour cream
1 large tomato, diced
Spring onions, sliced
Corn chips (as many as you like)
Lime quarters (optional)
Chopped coriander (optional)
Add oil to a heavy based, largish sauce pan and add onion, garlic, capsicum, spices and seasoning.  Slow sauté on low/medium heat with the lid on, stirring occasionally, until onion is transparent.
Increase heat, add tomato paste and cook down, add tomatoes, corn and kidney beans and cook on medium heat with lid on, stirring frequently to prevent sticking until tomatoes have broken down and mixture has thickened.  Add further seasoning to taste.  The idea is that this is a topping rather than a sauce and needs to be thick so the pizza base doesn't become soggy.  Allow topping to cool a bit before spooning onto pizza.
Preheat oven to 220 C.
Place pizza base onto non stick pizza tray.  Spoon over bean mixture and spread out.  Sprinkle over mozzarella cheese evenly and bake for 12-15 minutes, or until  cheese has melted and the base is browned.
Remove from the oven and add sliced avocado, spoon on sour cream, sprinkle over diced tomato and spring onions (and coriander if you like).  Stick individual corn chips into the middle of the pizza.
Serve with lime quarters for drizzling over.
Serves: 4 large pieces
Note: Bean topping can be frozen or stored in the fridge in advance.