I baked this pretty, tender-crumbed, berry studded, lemon scented bundt cake a few weeks months ago and loved it.  Let's face it, lemon is the new chocolate; chocolate will always be my first love however lemon has become so much a part of my cooking repertoire, it's hard to imagine life without it.
The first time I made this cake I didn't prepare the tin properly, not really thinking about the fact that it's a specialty type of cake tin and the cake fell apart in this spectacular way … however, it's such a fluffy, soft, appealing cake that it was well worth making again (and it didn't go to waste, cake is cake).
I won't lie though, I had some anxiety the second time around but I used these directions and it went quite well.  I have to admit, I was seduced by the cute shape of the bundt tin and didn't really think about the logistics that go with making a cake with a softer, fluffier texture.
The key things with bundt tins are to grease really, really well, getting into every corner, and flouring the tin before spooning in the cake mixture and also, I used this tin with removable sides which made it easier.  Alternatively, you could always try a round tin (I haven't tried this myself) if you want less drama.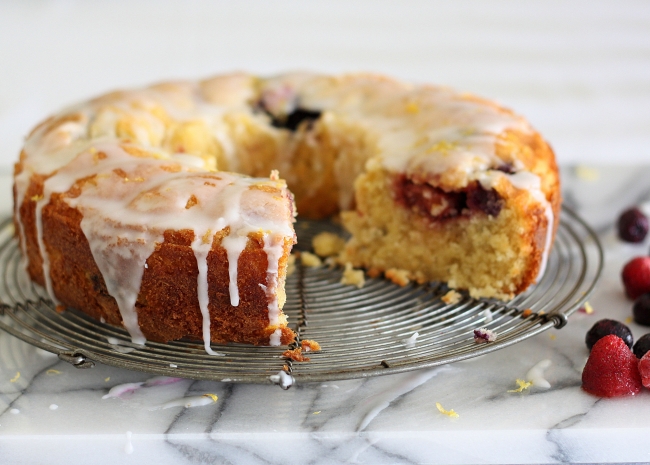 Recipe:
2 cups cake flour
2 tspns baking powder
1/4 tspn fine sea salt (don't add if using margarine)
200g unsalted butter or baking margarine, softened at room temperature
1 tspn vanilla essence
200g ricotta cheese, softened at room temperature (you can use light)
1 x 15ml tblspn lemon zest
1 1/2 cups raw caster sugar
3 eggs (59g weight)
1/2 cup strawberries
1/2 cup blueberries
Lemon glaze (optional):
1 cup icing sugar
30-40mls lemon juice, strained
1 tspn lemon zest
To make cake flour:  Place a sieve over a bowl and sit another bowl next to it.  Add 2 x 15ml level tablespoons of cornflour into a metric cup then fill to the brim and level with plain flour then place into fine meshed sieve.  Repeat with another metric cup.  Sift cake flour 3 times then set aside.
Preheat oven to 170C.  Grease and flour a 22cm bundt cake tin as per instructions/link below.
Sift flour, baking powder and salt into a medium sized bowl.
Using an electric beater on medium speed, cream butter, essence, ricotta and zest in large mixing bowl until lighter in colour and fluffy (around a minute).  Add sugar gradually and beat until well incorporated (40-50 seconds).  Beat in eggs on low speed, one at a time only until combined (the mixture will appear curdled at this point but don't worry).
Using a spatula or wooden spoon, fold flour and berries into mixture until combined – don't over mix.  Spoon mixture into cake tin, smooth the top with a butter knife.  Bake for 50 minutes or until skewer inserted towards the centre of the cake comes out clean.
Sit in tin for 15 minutes on a cooling rack, then run a butter knife around the sides and the middle of the cake and turn out onto rack to cool completely before drizzling over icing (see note below for turning out instructions).
Lemon drizzle:
Sift icing sugar into medium sized bowl.  Add lemon juice and mix well with a wooden spoon until of thick drizzling consistency.  Drizzle over cake then grate over lemon zest.
Serves: 8-10
Freezes without icing for up to a month.
Note 1:  bundt tin instructions
Note 2: If using a round cake tin, use one with removal sides, grease well and line the base with baking paper.