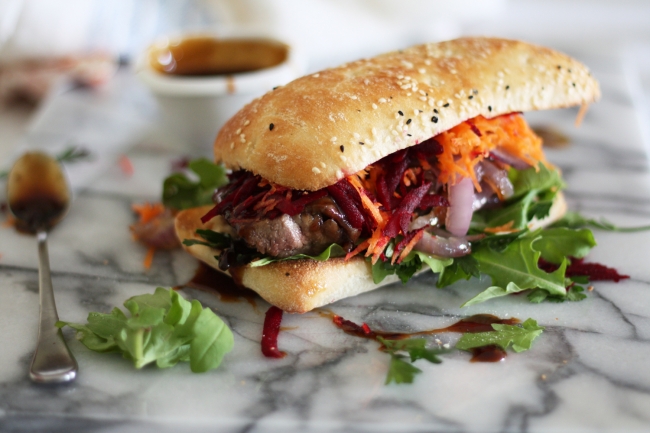 I purchased Bill Granger's Easy a while back and was really keen to use it.  It's packed with delicious yet simple recipes, so full of colours and interesting flavours.  So in it I spied a fancy looking steak sandwich recently, which I thought would be great barbecued on the long weekend.
We love a steak sandwich in Australia, it's kind of a tradition (along with chicken parma with a pint at the pub and falafel kebabs at 3am after a night out but they're a whole other story).  Bill's steak sandwich with gorgeous Asian flavours of ginger, spices, garlic and soy sauce is delicious!  I added some seasonal vegetables for some crunchy freshness piled onto a crusty Turkish roll, and we decided to barbecue the steaks after briefly marinating.  I find this guide to testing steak helpful and you could also check out how to cook the perfect steak for more info.
First I made the awesome barbecue sauce which was fragrant, sticky, spicy and reminded me of toffee.  I mean who doesn't like barbecue sauce?  Well homemade, particularly this homemade, is far superior, yet super easy and you can use it for so many things, such as a dip for chips (like hot chips and gravy but better) and instead of relish for a cheese sandwich.  I'm also thinking of making a barbecue chicken pizza using the sauce as a base, using it with vegie lentil burgers and oh .. maybe even to spice up some savoury mince pastries.  You get the drift.  It's kind of amazing.
Anyway, then we fired up our little barbecue …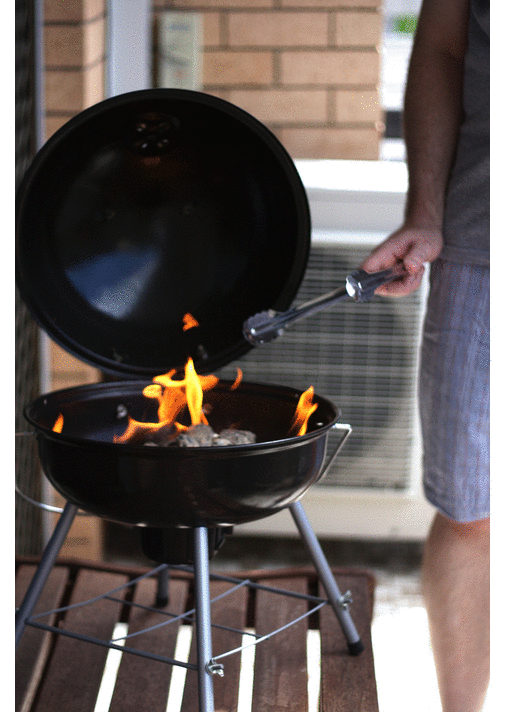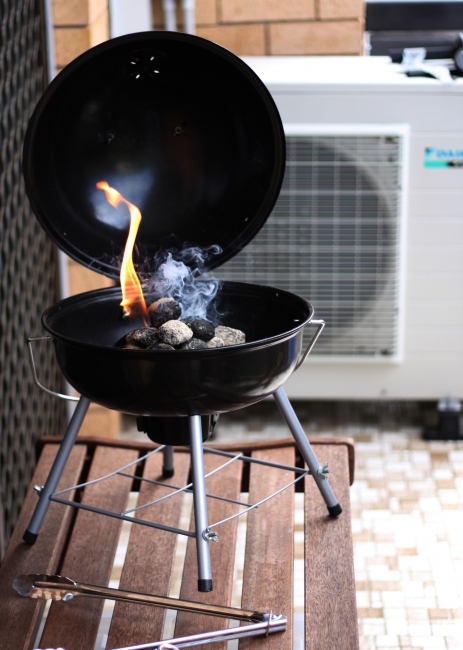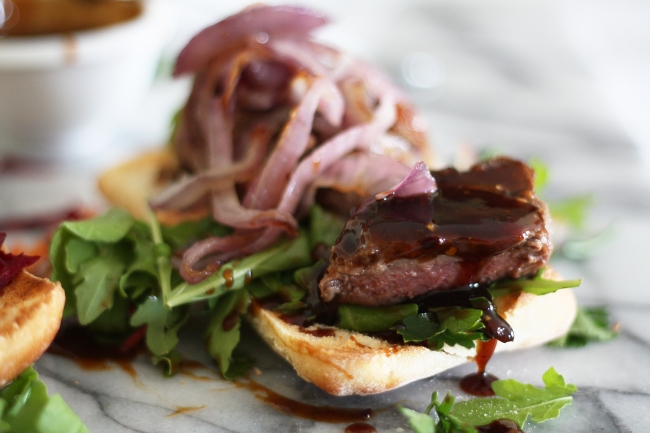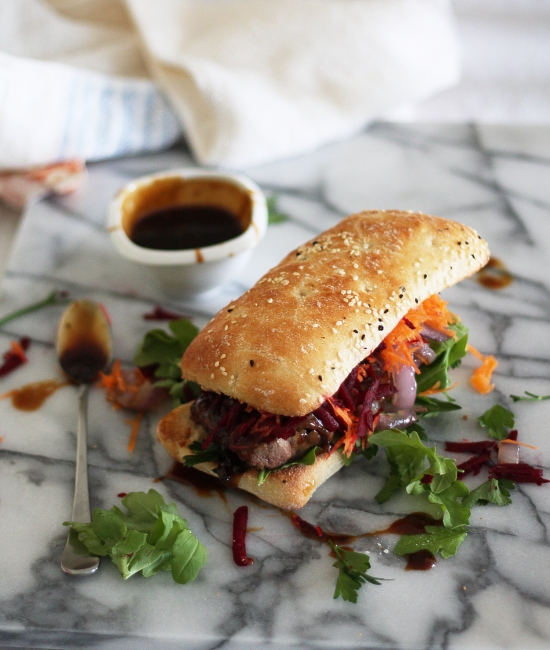 Recipe for Bill Granger's steak sandwich:
BBQ sauce:
50mls hoisin sauce
30mls Mirin
30mls low sodium soy sauce
1 garlic clove, crushed
1 tspn fresh grated ginger
Pinch chilli flakes
1/8 tspn ground cinnamon
1/8 tspn ground cloves
1/4 cup brown sugar
Freshly ground black pepper and sea salt
Sandwich:
30mls low sodium soy sauce
1 tspn brown sugar
1 small garlic clove, crushed
1/2 tspn sesame oil (if you have it, I used grapeseed oil)
1/2 tspn fresh grated ginger
Freshly ground black pepper
2 sirloin (Porterhouse) steaks
1 red onion, sliced into rings
15mls grapeseed oil
2 Turkish or sour dough bread rolls, sliced and toasted
Shredded beetroot and carrot
Rocket
Sandwich:
Place the first 6 ingredients in a small bowl and stir to combine.  Lay the steaks flat in a ceramic dish and pour over the dressing, rubbing into the steak.  Cover with plastic wrap and store in the fridge for 20-30 minutes to marinate, but no more.
BBQ sauce:
Place all ingredients into a medium sized, heavy based saucepan over medium heat, uncovered – add seasoning to taste including salt however, don't forget not much is needed due to addition of the hoisin and soy sauce.  Stir until sugar dissolves then simmer for 5-8 minutes, stirring occasionally and standing nearby until sauce has reduced.  Remove from the heat and cool to room temperature while making the steak sandwich.  It will thicken the longer it stands.
Add the red onion slices to the oil in a small pan and bring to high heat, then turn down to low/medium and sauté, stirring occasionally for 20-25 minutes or until golden brown and caramelised.  Set aside.
Preheat a frypan (don't use a non-stick one for this) or barbecue plate to high heat.  Sear the steaks until cooked to your liking, using the tongs to test the surface of the steak.  Once cooked, place steaks on a plate and cover with foil to rest for a few minutes.
Slice the steak and serve on bread rolls with salad, sautéed onion and barbecue sauce.
Adapted from: Bill Granger's Easy
Note:  Quite a lot of this can be prepared in advance; the barbecue sauce, marinade and grated vegies can be stored in the fridge for a couple of hours before you start.