I didn't realise that chocolate oats were a thing until I searched recently and found quite a few recipes.  I think it's inspired!  This cacao flavoured, nutty, creamy breakfast dish is also very timely considering Easter's just about upon us.
I love hearty, healthy oats and will always try something a bit different with them.  Inspired by this recipe, these luxuriously flavoured oats are a wholesome and delicious treat for breakfast and will give you loads of energy throughout the long weekend.
The cacao powder brings the oat mixture to a silky texture, similar to custard and I really enjoyed the dark chocolate flavour combined with the subtle coconut.
So try this!  I really can't imagine any chocolate lovers turning this down and, as someone who finds it very challenging to even go a day without something sweet, I can honestly say I already felt like I'd had dessert and didn't crave any more sugar that day.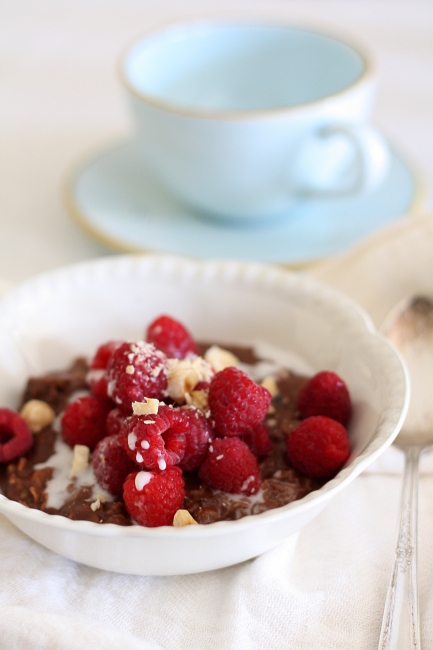 Recipe for chocolate oats:
2 x 15ml level tblspns cacao powder or cocoa (unsweetened baking) powder
70g oats
3/4 cup coconut milk (can use fat reduced if preferred)
3/4 cup milk of your choosing
30g hazelnuts, chopped
2 x 15ml tblspns (30mls) agave nectar or honey (or to taste)
1/8 tspn ground cinnamon
1/2 tspn vanilla extract
Coconut cream or milk, to drizzle
Seasonal fresh fruit, to serve
Add all ingredients, except coconut cream and fresh fruit, to a medium sized, heavy based saucepan and stir to combine.  Bring to a boil, then turn down to lowish and simmer covered for 5 minutes or so, stirring regularly, until creamy.
Pour into two bowls and serve with a drizzle of coconut cream or milk and fresh fruit.
Serves: 2
Inspired by: Nigella.com