The toasted walnut crunch combined with soft little sweet berries is a delicious, if unusual combination in this loaf cake.  It tastes fantastic toasted under the grill and served with butter (but doesn't everything really?) and it has a lovely soft texture.
I toasted the walnuts after tossing them through a little maple syrup for some added crunch and sweetness, but it would be just as delicious with plain toasted walnuts or even pecans or whole almonds.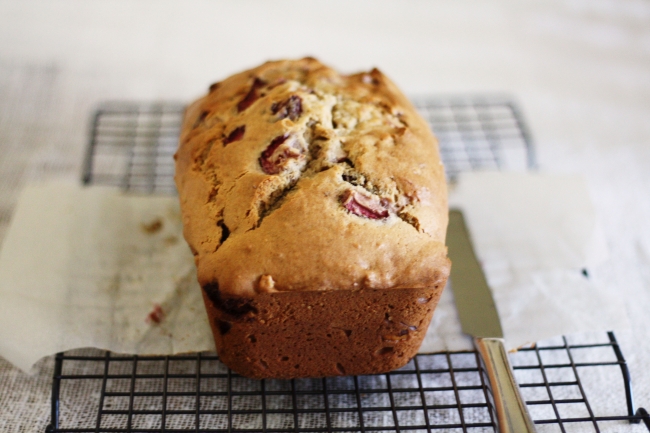 Recipe for strawberry walnut loaf:
1/2 cup unsalted butter or baking margarine (leave out salt if using margarine)
3/4 cup raw caster sugar
3 large eggs (59g whole weight each)
1 tspn good vanilla extract
2 cups plain flour
1/2 tspn baking powder
1/2 tspn baking soda
1/4 tspn salt
1/2 tspn ground cinnamon
1/2 tspn mixed spice
1/2 cup Greek yoghurt (I used a honey flavoured one)
1/2 cup walnuts, pecan nuts or almonds, chopped coarsely
15mls maple syrup
1 250g punnet chopped fresh strawberries or 250g frozen strawberries
Preheat oven to 180 degrees C (170C fan forced).  Grease the bottom and sides of a loaf tin  (23 x 13 x 8 cm) and place baking paper on the base and up the sides, leaving some overhang.
Toss the nuts with the maple syrup on a baking sheet, spread out evenly then bake for about 8-10 minutes or until maple syrup has reduced and nuts are fragrant.  Remove from oven, set aside to cool and harden further.
Into a separate bowl, sift the flour, raising agents, salt if using, and spices.
In the bowl of your electric mixer, or with a hand mixer on medium speed, beat the butter or margarine until creamy and lighter in colour (about 1 minute).  Add the sugar and continue to beat until light and fluffy, for around 2 minutes.  Add the vanilla and eggs, one at a time, beating after each addition until just combined.  Use a spatula to scrape down the sides of the bowl as needed.
Using a spatula or wooden spoon to fold into the butter mixture; alternately add the flour mixture (in two additions) and yoghurt (in two additions) – don't over-beat mixture.  Gently fold through nuts and strawberries until evenly distributed.
Pour the batter into the prepared pan and bake about 50-60 minutes, or until the top is golden brown and a skewer inserted in the center comes out clean.
Place on a wire rack to cool for 10 minutes then remove the loaf from the pan onto a baking rack.  Serve warm or at room temperature.
Serves: 8-10
Note: can be frozen
Adapted from: Joy of Baking