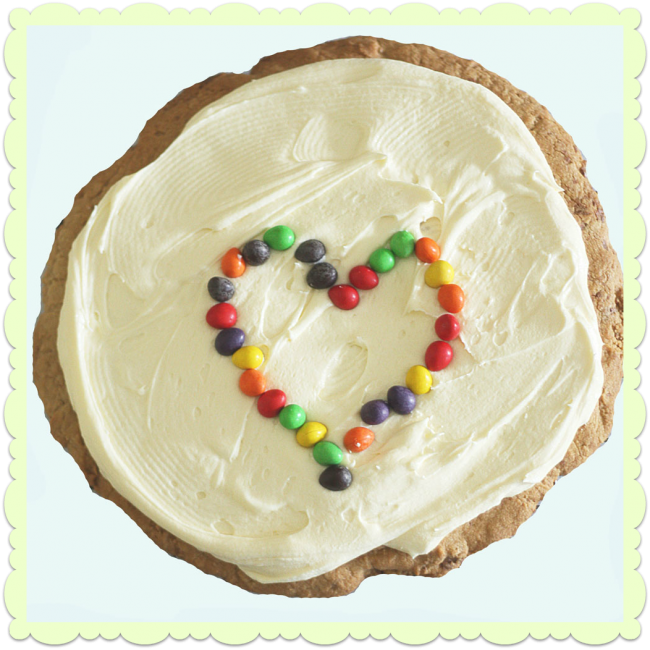 Hee hee.  I've always wanted to bake a giant cookie.

A few years ago, in lieu of a birthday cake for a good friend from uni, I purchased a giant chocolate chip cookie with Happy Birthday iced over the top.  I remember sitting on the steps outside a bookstore in the city waiting to meet up with him holding the massive cookie, which was wrapped in clear wrapping so everyone walking by could see it.  We both cracked up when I took it out of the box to show him, then we ate bits of it sitting on the steps, like Alice in Wonderland.
There's just something unexpected and whimsical about one big cookie -v- a batch of smaller ones.
The cookie I made is adapted from 500 Recipes; a super easy, delicious tasting treat; chewy, fudgy cookie with luscious cream cheese icing and crunchy chocolate candy on top.  The best thing about this is, you don't really expect thick, luxurious icing on top of a cookie so there's that lovely, surprising decadence of it – very rich and calorific though, this would easily serve 12.
So happy day for tomorrow lovely readers, whether you celebrate Valentines or not (I don't particularly, I just use it as an excuse to make dessert and have a bit of fun).
Recipe for giant cookie:
120g (1/2 cup) unsalted butter, softened at room temperature
1 cup packed brown sugar
1 large egg (59g full weight)
1 tspn vanilla extract
1 1/2 cups plain flour
Tiny pinch fine sea salt
1/4 tspn baking powder
1/4 tspn bicarbonate of soda
80g chopped milk chocolate
Icing:
120g (1/2 cup) unsalted butter, softened at room temperature
120g cream cheese, softened at room temperature (can use reduced fat)
1/2 tspn vanilla extract
2 1/2 cups icing sugar, sifted
Cadbury Mini Drops or similar coloured chocolate candy or any decorations you like
Preheat oven to 175C.  Line a large round flat baking pan with baking paper (I used a 20cm pizza tray with holes in the bottom).
Place butter and sugar in a large mixing bowl and beat on medium speed of an electric mixer until lighter in colour and fluffy in texture (about 1 minute).  Add egg and vanilla and beat on low speed until combined.  Sift the dry ingredients into the butter mixture and use a wooden spoon to fold through then add the chopped chocolate and mix, just until combined.
Spread the cookie mixture over the lined baking tray with your hands as evenly as possible, leaving a few centimetres around the edges for the cookie to expand.  Bake for 20 minutes or until lightly browned around the edges and still fudgy soft in the  middle.
Allow to cool in the pizza tray for 5 minutes then lift carefully, using the baking paper, onto a baking rack to cool completely before icing.
Icing:
On medium speed of electric mixer, beat butter, cream cheese and vanilla until pale, light and fluffy, around 2 minutes.  Add sifted icing sugar gradually, continuing to beat on medium speed until combined well and of stiff consistency, for around 2 minutes.
Decorate cooled cookie as desired.
Serves: 12
Note:  Makes a LOT of icing.  You could probably get away with half the recipe if you don't like thick icing.
Inspired by and adapted from: 500 Cookies