This rich, creamy, no-bake tart was gorgeous on our very hot Christmas day however you do only need a small slice (I'm really not being judgmental; you'll think you want a big slice because it's so sweetly creamy and comfortingly childlike yet darkly chocolate, get halfway through it, feel full yet keep scarfing it down then feel like you ate way too much and sort of regret it).
I prepared the filling and tart base the day before and piped the cream over right before I served it.  It would be lovely with a handful of blueberries or raspberries scattered over but I didn't have those.
I did however, spot some butterscotch flavoured dolloping cream when I did the Christmas shopping, which I piped over the top of the tart and it was so delicious I could have spooned it out of the tub on it's own and eaten it.  You could use plain cream and it would be just as lovely, I've just never tried butterscotch flavoured cream before and it was a bit of a novelty.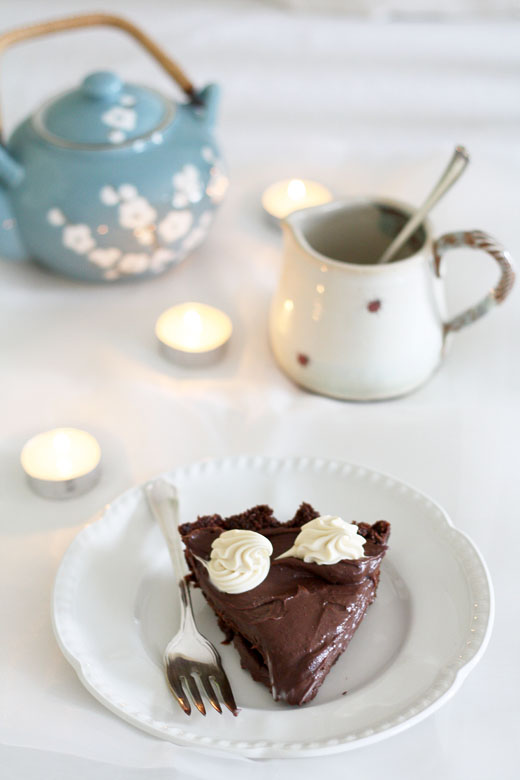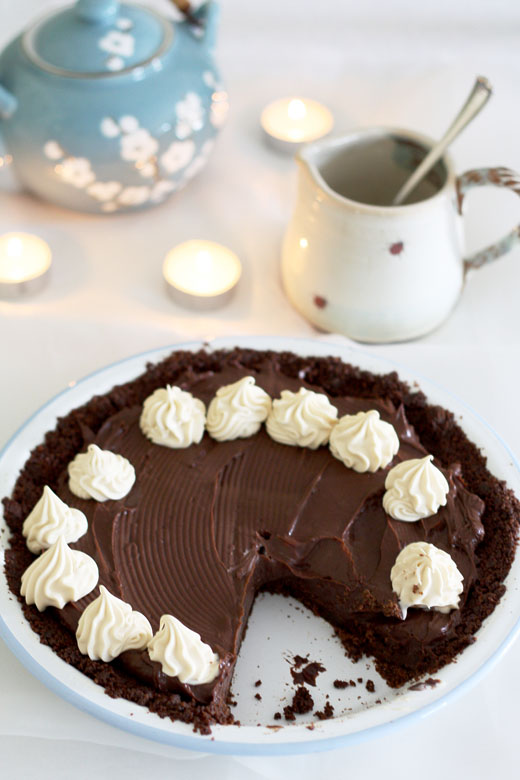 Recipe for chocolate tart:
Base:
250g Arnott's Chocolate ripple biscuits (or similar plain chocolate biscuit)
100g unsalted butter, melted and cooled
Chocolate Filling:
3/4 cup sugar
2.5 x 15ml tblspns cornflour
1/4 cup baking cocoa powder (unsweetened)
Small pinch sea salt
1 2/3 cups full cream milk
1/3 cup heavy whipping cream (35% fat content)
3 large egg yolks
90g 70% dark chocolate, chopped
1 tspn pure vanilla extract
15g unsalted butter, diced and at room temperature
200ml carton Thick Dollop Cream (I used butterscotch flavoured)
Grease a 20cm pie tin.
Crush chocolate biscuits in food processor until crumbs are fine.  Add to a bowl then gradually add in melted butter (you might not need all of it), mixing until mixture is damp but not wet.  Press mixture evenly into pie tin, wrap with plastic wrap and store in the fridge.
Tart filling:
In a medium-sized heatproof bowl whisk sugar, sifted cornstarch and cocoa powder as well as salt, until combined and free of lumps.  Whisk in 1/3 cup of the milk to make a thick paste then add egg yolks and whisk into the cocoa paste mixture until thick and combined.  Set aside.  Place a strainer over another heatproof, medium sized bowl and set aside.
Pour the remaining 1 1/3 cups milk and the cream into a medium-sized heavy based saucepan. Bring just to a boil (as soon as the milk starts to foam up) then remove from heat, gradually pouring into the egg mixture, whisking constantly until mixture is smooth.  Transfer back into the saucepan and place over low/medium heat, stirring constantly for 4-5 minutes, until mixture is thick and pudding-like.
Pour mixture through strainer into heatproof bowl which has been set aside, making sure to scrape off the base of the strainer.
Add the chocolate, butter and vanilla essence, stirring gently until smooth (don't over-mix).  Place plastic wrap over filling to prevent a skin forming, cool at room temperature then pour into a container and place in the fridge for a few hours to thicken completely (I left it overnight).
Once filling has thickened and base has hardened remove them from the fridge.  Pour chocolate filling into tart base and level with a butter or palette knife.  Add cream to piping bag and pipe over the top of the tart and serve.
This will keep for 2-3 days in the fridge, covered in plastic wrap.
Serves: 8
Note:  If you can't find a thick, dolloping cream, whip thickened cream until stiff consistency and pipe onto tart as above. 
Adapted from:  Joy of Baking