Is it wrong to say my favourite part of Christmas Day, after the hectic usual lunch, was lying down on our old yet much loved lounge in the air con drinking ciders, eating Japanese rice crackers and watching Community with Ant?  (if you haven't seen the Modern Warfare ep, you have to, it's fall-about-on-the-floor funny).
Anyway, I'm ashamed to say as an Australian I've never made a pavlova (oops) so thought I'd remedy that this past Christmas with easy to whip up, luscious cherry mascarpone mini pavlovas.  We like a pav in this warm part of the world – it seems I've grown up with the good old passionfruit, strawberry and kiwi fruit pavlova with whipped cream for as long as I can remember (and I love those!).
This ones a bit different though – taking advantage of summer cherries to make a luscious, yet Gothic looking sauce, the meringue was crisp on the outside, soft and gooey in the middle with cheesecake flavoured mascarpone.  It was very festive on Christmas Day and you can do it all fancy and stack the meringues up in layers if you prefer.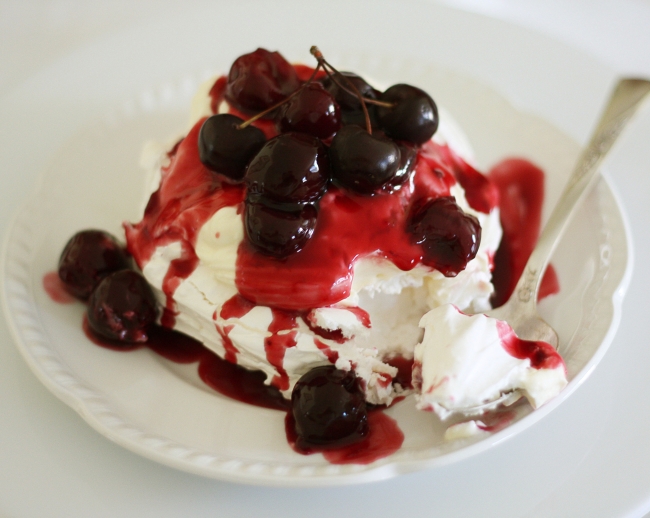 Recipe:
Meringues:
3 large egg whites
Pinch salt
100g white caster sugar
100g pure icing sugar, sifted
15g cornflour, sifted
Cherry sauce:
300g fresh or frozen, pitted whole cherries
1 tspn vanilla extract
2 x 20ml tblspns sugar
1 tspn fresh lemon juice
1/4 cup water
2 level tspns cornflour, mixed with 15mls water until smooth
320g mascarpone cheese
1/3 cup caster sugar
20mls lemon juice
1 tspn lemon zest
1/2 tspn vanilla extract
Fresh cherries to garnish
Preheat oven to 120C (110 fan forced).  Line a flat, large baking tray with baking paper.
Meringues:
Using an electric beater (I found it easier to use my Kitchenaid), beat egg whites with a pinch of fine salt in mixing bowl until you can see firm peaks forming (around 2 minutes).  Gradually pour in caster sugar while still beating egg white and continue beating until mixture is thick and glossy (around 1-2 minutes).  Sieve icing sugar and cornflour (if not already sifted) over the mixture and use spatula to fold through until combined.
Spoon 3 equal mounds onto lined baking tray and smooth over with a knife, making a slight dip in the centre.  Bake meringues for 45 minutes, or until very light golden brown and can be lifted off the paper.  Turn off oven and leave meringues in the oven for another hour, or until completely cool.
Cherry sauce:
Place all ingredients, except the cornflour and tablespoon of water into a small-medium saucepan.  Bring to a high simmer then immediately turn down to medium/high and simmer until sugar has dissolved.  Pour in dissolved cornflour/water mixture and stir quickly to avoid lumps, continuing to simmer for a few minutes, or until mixture has thickened yet cherries are still intact.
Set aside to cool or store in the fridge if using later on.
Mascarpone:
Using an electric mixer, beat all ingredients in a mixing bowl for 1-2 minutes, or until creamy, fluffy and stiff in texture.  Can be stored in the fridge in an airtight container for up to 24 hours.
Makes: 3 x 12cm pavlovas
Note:  You can make the meringues a couple of days in advance for convenience.  Make sure they're completely cool and store in an airtight plastic container on baking paper.