Blackberries are my new favourite berry; I just love their lush darkness and how purply sweet they become after baking.  Sprinkled over this soft, fluffy cake with a crunchy streusel topping they were lovely.
When I first made this cake, I was all about the full fat sour cream (and it is a sour cream teacake after all).  But .. in the interests of being more health conscious and because I was very kindly sent some lovely new yoghurt to try, I recently baked this using Chobani low fat Greek yoghurt instead and was really happy with how it turned out; the crumb is just as soft and appealing and the cake rose very nicely.
And I think teacake is the Australian way to say coffee cake?  Anyway, this pretty little cake is essential to have with a cup of tea or frothy coffee on a sunny morning.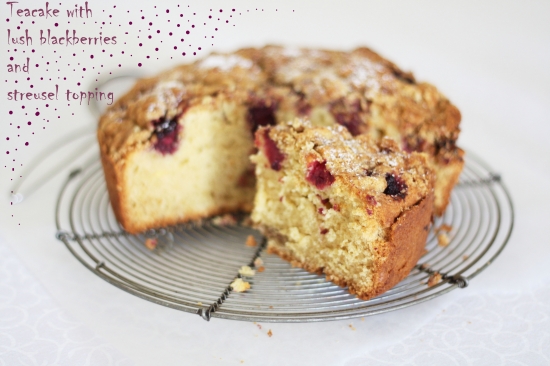 Recipe for blackberry sour cream teacake:
1 3/4 cups plain flour
1/2 tspn bicarbonate of soda
1 tspn baking powder
A small pinch salt (leave out if using margarine)
1/4 tspn mixed spice
200g unsalted butter or baking margarine, at room temperature
1 tspn vanilla essence
3/4 cup raw caster sugar
2 large eggs (59g whole weight)
130g sour cream or Greek yoghurt (either full or reduced fat)
160g blackberries
Streusel topping:
60g chilled unsalted butter
1/4 cup wholemeal plain flour
4 x 20ml tblspns brown sugar
Preheat oven to 175C (165C fan forced).  Grease a 20cm round deep cake tin with a removable base and line base with baking paper.
Sift the flour, raising agents, salt, and mixed spice into a bowl. Set aside.
Topping:
In a small mixing bowl, rub the butter into the flour using fingertips then rub in the sugar until combined.  Mixture will be damp.  Store in the fridge until you use it.
Cake:
In a large mixing bowl on medium speed using electric mixer, cream butter, vanilla and sugar for around a minute or two, or until light and fluffy.  Beat in eggs on low speed one at a time until combined.  Stir in the sour cream with a wooden spoon until incorporated then add the flour mixture and fold until combined but don't over-mix.
Spoon into prepared tin, smooth the top then press blackberries into the batter slightly.  Crumble over the topping and press gently into the batter.
Bake for 45-55 minutes (more than halfway through you might want to turn it around), or until top is lightly golden, the top has risen and is cooked and a skewer inserted into the center comes out clean (the centre might be bubbling a little bit due to the buttery topping).
Cool in tin for 10-15 minutes then turn out onto cooling rack to cool before slicing to serve.  Dust with icing sugar and serve with a dollop of cream.
Serves: 8
Best served on the day although can be frozen quite well.  Allow cake to cool whole completely, then slice into portions, wrap tightly in plastic wrap and store in the freezer for up to a month.