This simple French dish is one of my favourite things to make.  I've learned not to skimp on the oil and also, that the vegetables need to be cooked down really well on a slowish but longer heat, to encourage intensity of flavour, sweetness and also for a soft, silky texture.  And this dish is even better the next day as the flavours develop further.
I used to serve it with crusty bread, and that's always a good thing but lately I've taken to mashing up tinned or cooked cannellini beans, extra virgin olive oil, garlic, lemon and rosemary and sauteing in a pan; it's really delicious and works well with the sweet vegetables.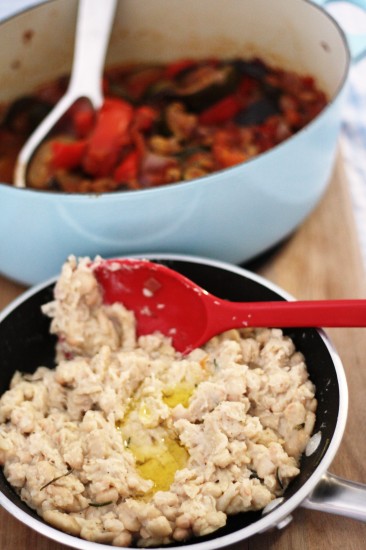 Recipe:
olive or grapeseed oil
thyme sprig or 1 tspn Tuscan seasoning
freshly ground sea salt and black pepper
3 medium red or Spanish onions, peeled and chopped roughly
3-4 cloves garlic, crushed
450g eggplant, sliced in medium rounds – if using a larger eggplant, cut slices into quarters
400g zucchini, sliced in medium rounds
400g coloured capsicum, sliced
500-600g vine ripened tomatoes, diced with some of the juice and seeds removed
3 dried bay leaves or 1 fresh
White bean mash:
3 x 400g tins drained and rinsed cannellini beans
90mls extra virgin olive oil
1 clove garlic, crushed
3 tspns rosemary leaves
1 tspn lemon zest
Freshly ground sea salt and black pepper
There's a few steps to this and it might seem a bit convoluted but I find it worthwhile pre-sauteing the vegies as it adds a lovely flavour and depth to the dish.  It also ensures the eggplant is cooked really well.
Heat 30mls of oil in a fry pan on medium heat.  Add the sliced eggplant and season, then saute, turning occasionally for 5-6 minutes until light golden brown.  Remove onto plate.  Add a further 15mls oil to the pan and add the zucchini slices, cooking and seasoning them the same way as the eggplant.  Repeat the procedure for the capsicum and the rest of the zucchini, turning down the heat if becoming too hot.  At this step I toss the vegies around for a few minutes then add the rest of the zucchini and eggplant to caramelise further for a couple of minutes.
Meanwhile, heat 30mls oil to a Dutch oven on high heat and add the onions, garlic, thyme and seasoning – immediately turn down to low heat.  Saute covered, stirring occasionally, for 5-10 minutes (as long as it takes to cook the other vegetables).  Add the tomatoes, eggplant, zucchini, and capsicum, stirring to combine, then add bay leaf and Tuscan seasoning, if using instead of the thyme.  Bring to the boil then cover and simmer on low-medium heat for 30-40 minutes until mixture has thickened and the zucchini, capsicum and eggplant are silky soft.  I leave the lid off for the last 5-10 minutes to reduce a bit more.  Add more salt and pepper to taste.
Remove from the hotplate, take out the bay leaves and allow to sit for a few minutes before serving (you could make the bean mash in this time).
Serves: 4 (freezes quite well)
White bean mash:
Add rosemary leaves and garlic to 80mls of the oil in a medium sized pan on medium heat and stir, cooking gently for 2 minutes.  Add cannellini beans and lemon zest then mash with a fork or potato masher, stirring through for a few minutes until heated – I prefer not to mash them completely for a more rustic mash.  Season to taste and stir through.  You might like to drizzle a couple of teaspoons more oil over the top for serving.
Serves: 4 (best served immediately)