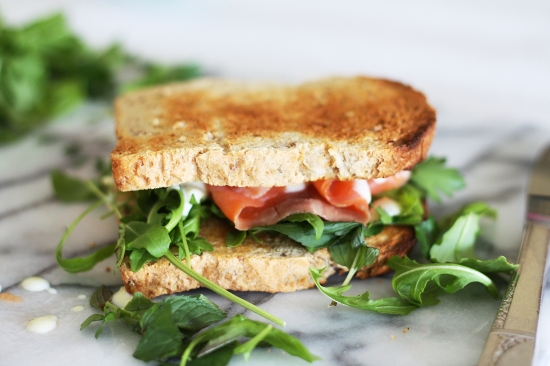 Greek yoghurt is so much a part of my daily diet, I don't know what I'd do without it.  I tend to buy unsweetened Greek yoghurt rather than the flavoured kind as it's far healthier and you can add whatever you like to it.  It's also a wonderfully versatile ingredient for cooking and baking.
I loved this version of aioli; the yoghurt made it deliciously zesty and creamy and it was so full of flavour.  It's also a significantly lower fat alternative to traditional aioli (and you don't need eggs, nor do you need to eat raw eggs.  As wonderful as the traditional is, eating raw eggs always freaks me out a bit).
The aioli was a perfect foil for the rich smoked salmon (lemon and smoked salmon are the perfect combination) and fresh, aromatic greens on crunchy, rustic bread.  It would also be fantastic as a dip for entertaining, served with spicy oven chips or vegie sticks and … I also have a feeling it would make a great substitute sauce to use instead of hollandaise, for Eggs Benedict.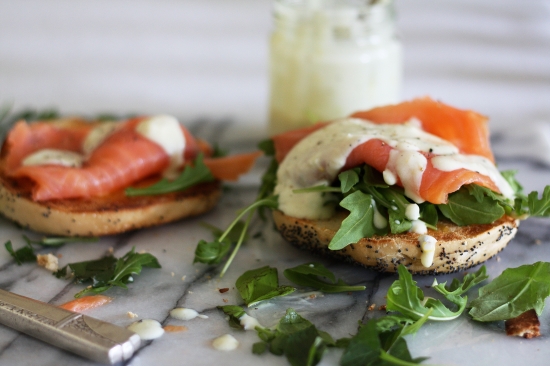 (this post was originally a product review for Roaming Cow Yoghurt which is no longer in production)
 Recipe:
4 slices rustic, grainy bread or 2 poppyseed bagels
Unsalted butter at room temperature, or margarine if you prefer
100g thinly sliced smoked salmon
Good handful greens (I used watercress, rocket, basil, Continental parsley and a teeny bit of mint) chopped
Freshly ground black pepper
Lemon aioli:
1/3 cup plain, full fat Greek style yoghurt
15mls extra virgin olive oil
2 tspns lemon juice
1 clove garlic, crushed (I used a medium sized clove, if you prefer less garlic flavour, choose a small clove)
1/2 tspn lemon zest
1/2 tspn honey
1 tspn Dijon mustard
Freshly ground sea salt and black pepper, to taste
Whisk chilled lemon aioli ingredients together in a small bowl until combined, smooth and creamy.  Chill in fridge for an hour or so to thicken.
Before using, sit out at room temperature for a few minutes and briefly stir.
Toast bread or bagels.  Butter then add greens, smoked salmon and aioli drizzled on top.
Serves: 2
Note: you can store the aioli in the fridge for a couple of days