This recipe is pretty easy and well worth making for a lovely treat.  If you've ever made home made ice cream or custard you'll find it a doddle but even if you haven't, it's just a few careful steps.
I loved this comforting, childlike dessert!  So velvety, creamy and full of sweet caramel flavour.  The original recipe uses a couple of fancy sugars which aren't that hard to get but I know I'll never use them again, so I just used brown and raw sugars and it turned out beautifully.  If you want something a bit special, this is it.  Not for everyday maybe but a nice bit of dessert to have on the weekend.
You can leave the pudding in the ramekins for a simple, sweet treat or scoop out the pudding into cute glasses and layer with crushed butternut biscuits, banana and whipped cream for a banoffee parfait.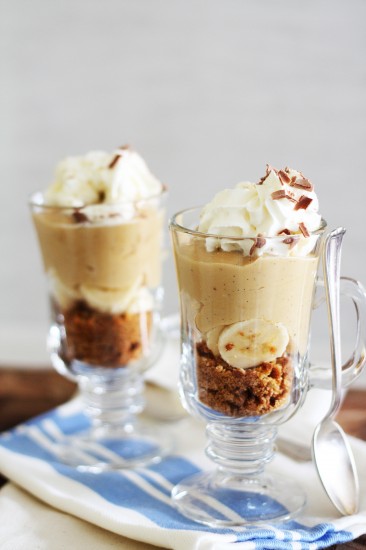 Recipe for caramel pots:
1 1/2 cups heavy cream
6 x 15ml tblspns light brown sugar
1 tspn vanilla bean paste or 1 vanilla bean, scraped
1/4 tspn sea salt
6 x 15ml tblspns water
2 x 15ml tblspns raw granulated sugar
4 large egg yolks at room temperature (59g whole egg weight)
Whipped cream or the aerosol kind
Dark chocolate shavings
1 medium banana, peeled and sliced thinly
4 butternut biscuits
Set aside 4 1/2 cup ramekins.
Place oven rack in middle position.  Preheat oven to 150C (140C fan forced).
Place cream, brown sugar, vanilla seeds or paste and salt in a small, heavy based saucepan and bring to a simmer over medium heat, stirring constantly until all the sugar is dissolved.  Set aside.
In a medium sized, heavy based saucepan, bring water and raw sugar to a boil over medium heat, stirring constantly until sugar is completely dissolved.  Continue to simmer, stirring regularly until lightly browned and bubbling, for around 5 minutes (the longer you do it, the darker the mixture will become).  Remove from the heat and carefully add the cream mixture, whisking quickly and constantly until combined well (mixture will bubble and might rise up a bit so be careful).  Set aside for a minute.
Whisk together egg yolks in a large, heatproof bowl until thick and creamy, then add hot cream mixture in a constant stream, whisking quickly.
Pour custard mixture through a fine mesh sieve into a glass jug or bowl.  Pour into ramekins.
Arrange ramekins in a rectangular, 20cm x 10cm roasting pan and carefully pour just boiled water into the pan, about halfway up the ramekins.  Bake for 30-35 minutes or until custards are set around the edges but still slightly wobbly in the centre.
Transfer ramekins using tongs and an egg-flip under the bases, onto a cooling rack.  Cool to warm or room temperature before serving or using the set custard.  The puddings will continue to set further as they cool.
Store in fridge if not using for a while.
Serves: 4
Note:  I find it easier to separate the eggs straight from the fridge then allow the yolks to sit for 5 minutes or so before using.
For banoffee pudding:
Chill caramel puddings.
Crumble the butternut biscuits into small pieces and crumbs, using a rolling pin.
Layer the crumbled biscuits, the banana and caramel pudding into tall glasses, ending with a dollop of cream and shaved chocolate.
Serves: 2
Inspired by: Epicurious