I'm really very enamored with brioche pudding these days.
This one's full of squishy blueberries and crunchy almonds and was gorgeous with a drizzle of cream.  I'm amazed actually, that a tiny bit of effort with a bit of bread; albeit lovely and luxurious brioche (I used a frozen one I made previously but you could always buy it from a bakery or supermarket) and fruit, nuts and cream results in this soft, crunchy topped, sweet treat.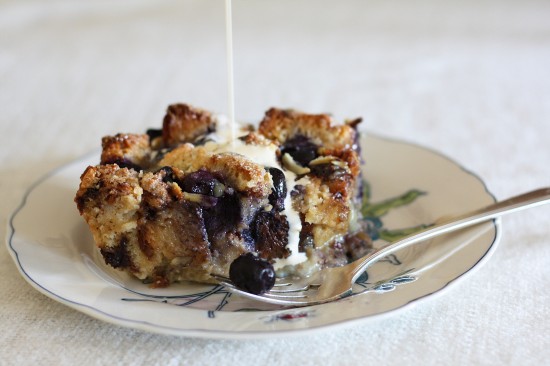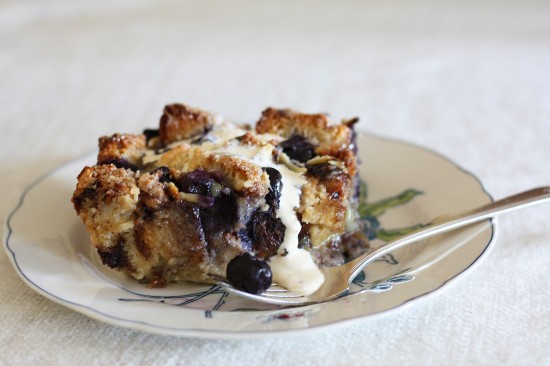 Recipe for berry almond bread pudding:
400g day old brioche or bread of your choice
3/4 cup cooking cream (can sub Greek yoghurt)
3/4 cup milk
2 large eggs
1 tspn orange zest
1 tspn vanilla essence
1/2 cup raw sugar + extra
200g blueberries
20g flaked or slivered almonds
Slice bread then dice into cubes – place into 21cm square, deep baking dish.  Add berries and almonds in between pieces of bread.
Whisk cream, milk, eggs, zest, vanilla essence and sugar until combined and creamy.   Pour over bread and squish in, using your hands.  Sprinkle over a couple of tablespoons of sugar.
Preheat oven to 180C.  Allow pudding to sit and absorb the liquid for 10-15 minutes while oven is heating.
Bake in oven for around 35-40 minutes, or until custard has set and the top is lightly browned and crunchy.  Allow to sit for ten minutes before serving.
Serve with cream if desired.
Serves: 6