It's very cold and rainy in my part of the world lately.  We live in a warm place normally and winter is generally a gorgeous break from the humidity but this year we're all suffering in that sooky way people who are used to hot weather do.  I've been living on soups, toast, hot chocolate and lots of tea.
So in keeping with this, my other half and I made French onion soup recently and it was amazing!  I've never made this French classic before and it came about because we purchased too many onions and the obvious choice was a gorgeous, rich, slightly sweet, luxurious, caramelised onion soup with toasty cheese croûtons on top.  It takes a while but is super easy and the perfect meal for a frosty-cold afternoon.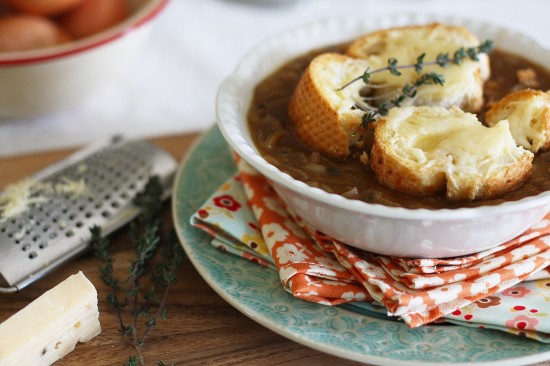 Recipe for French onion soup:
90g chilled unsalted butter
1 x 20ml tblspn extra virgin olive oil
1kg brown onions, peeled and thinly sliced
2 cloves garlic, crushed
Sea salt
Black pepper
2 tspns brown sugar
3-4 sprigs of thyme, leaves removed
1 x 20ml tblspn plain flour
2 cups good beef stock
Cheese toast:
8 baguette bread slices
Extra virgin olive oil
1/4 cup finely grated Parmesan cheese
1/4 cup grated cheddar
1/4 cup grated Gruyère cheese
Heat butter and oil in a heavy based, large saucepan over high heat until sizzling.  Add onions, garlic, freshly ground black pepper and sea salt (not too much as the stock is always high in sodium) – stir then turn down to medium/low.  Slow saute, uncovered, stirring regularly to pick up the browned bits on the bottom of the pan, for an hour or until onions are broken down, caramelised and very soft.  Stir through sugar and thyme leaves and saute, stirring regularly, for a further 10 minutes or until onions caramelise further.
Add flour and continue to cook, stirring, for 2 minutes.  Turn up heat to high and add 1/2 cup of stock, de-glazing pan and simmer for 5 minutes until it reduces down, then add remaining stock until it starts bubbling, reduce heat to low-medium and simmer, uncovered, for 15 minutes to allow flavours to combine and for stock to reduce slightly.
Preheat oven to 200°C.  Brush flat baking pan with oil then place pieces of bread on tray and brush top side of each piece of bread with oil.
Bake for 5 minutes then turn over for another 5 minutes, or until bread is light golden.  Mix cheeses together then sprinkle over bread and return to oven for a few minutes or until cheese has melted and is golden
Ladle soup into 4 bowls.  Top with 2 cheesy toasts each, sprinkle with extra thyme, season with freshly ground black pepper.  Serve immediately.
Note:  this makes quite a thick soup – if you want to thin it out a bit or want more serves, use a cup more beef stock.
Serves: 4
Inspired by: taste