I love these old-fashioned, citrusy, sweet little bars and they're so easy to make.  I whip up a batch, freeze them and take them out to defrost for dessert emergencies (no really!  There is such a thing, you know there is).   You can also swap the lemon juice for lime for an even zestier flavour.
I made this lot a while back in summer.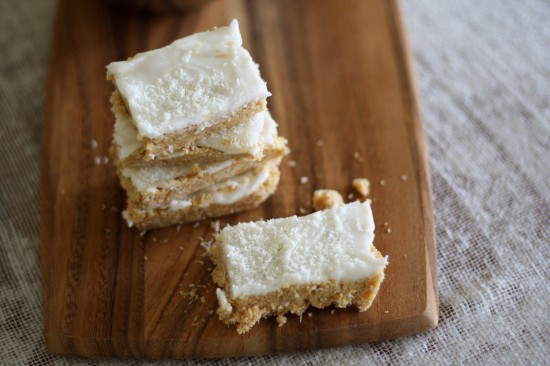 Recipe:
80g unsalted butter
3/4 cup skim or full fat sweetened condensed milk
1 x 20ml tblspn freshly squeezed lemon juice
1/2 tspn finely grated lemon zest
250g packet Arnott's Nice biscuits, Milk Arrowroot biscuits or other plain, sweet biscuit
1 cup organic desiccated coconut
Lemon Icing
2 cups pure icing sugar, sifted
3 x 20ml tblspns freshly squeezed lemon juice + 20mls more, if needed
2 x 20ml tblspns organic desiccated coconut
Lemon zest (optional)
Grease a non-stick 18cm by 28cm baking dish and line base and sides with baking paper.
Heat butter and condensed milk in a medium, heavy based saucepan over low/medium heat, stirring until butter has melted and mixture is smooth.  Take off the hotplate and add lemon juice and lemon zest (if using), whisking to combine.  Set aside.
Finely crush biscuits using a food processor or alternately, place biscuits in two freezer bags and bash with a rolling pin (the crumbs might be a bit coarser if you do it this way).
Stir crushed biscuits and coconut into condensed milk mixture until combined well.  The mixture will be quite wet to start with – use your hands to press the mixture into prepared pan and refrigerate for around 15 minutes.
Remove base from the fridge and prepare icing (make just before you use it as it hardens quite quickly).  Spread icing evenly over slice using a flat bladed knife then sprinkle with extra coconut and lemon zest, if using.
Refrigerate slice until firm then remove from the pan and cut into pieces.  Store slice in an airtight container in the refrigerator or wrap individually in plastic wrap and store in freezer.  Defrost in the fridge then leave out at room temperature for 15 minutes or so before eating.
Lemon Icing
Combine sifted icing sugar and lemon juice in a small bowl and stir until smooth.  Add more juice if needed.
Makes 16 pieces
Adapted from: Exclusively Food