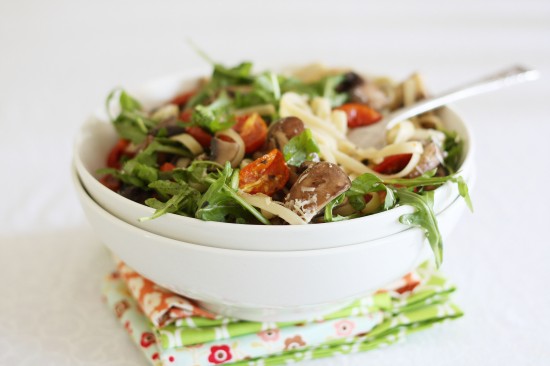 This is one of those refrigerator pasta dishes (stuff left over in your crisper) I made a while back when cherry toms were still nice, which turned out so tasty, it'll now be a regular dish in warmer weather.
The lemony, garlicky mushrooms, sweet cherry tomatoes and peppery rocket were a lovely combination and so full of natural, healthy, fresh flavour.
Recipe for Linguine with Mushrooms, Cherry Tomatoes, Lemon and Rocket:
500g cherry or grape tomatoes
50mls extra virgin olive oil
3 cloves garlic, crushed
2 tspns lemon zest
300g field, brown or white mushrooms, roughly diced (a mixture is nice)
210g linguine
50mls fresh lemon juice
Freshly ground sea salt and cracked black pepper
150g rocket or arugula
Finely grated Parmesan cheese
Preheat oven to 150C (fan forced).  Wash and halve tomatoes and place on baking paper lined, flat baking tray, cut side up – season well.  Roast in oven for an hour, or until tomatoes have reduced and dried slightly.  Set aside.
Add oil, 1 teaspoon lemon zest, garlic and black pepper to heavy based, medium sized saucepan or frypan.  Bring up to heat on low/medium, then reduce to lowest setting and infuse oil for 1-2 minutes (be careful not to burn the ingredients – sometimes I turn the heat off and leave the saucepan on the hotplate).  Increase temperature to low/medium then add mushrooms to oil and cook gently until mushrooms are tender, stirring regularly – this should take around 4 minutes.  Set aside.
Meanwhile, boil linguine in salted water for 11-12 minutes, or until al dente.  Wash and dry rocket then place in large, heatproof bowl and set aside.
Drain pasta, reserving 1/4 cup of the pasta water.  Place linguine, oven roasted tomatoes, lemon garlic mushrooms, lemon juice, the extra teaspoon of lemon zest and seasoning back in the pasta pan on low heat – season to taste.  Toss through until all ingredients are heated through and combined well.  Add a splash of the reserved pasta water so each pasta strand is moistened.
Pour pasta into the bowl of rocket and allow the rocket to wilt for a couple of minutes – toss through gently.
Place into serving bowls and add grated Parmesan cheese and extra ground black pepper.
Serves: 4 small (lunch size) servings
Note 1:  You can roast the tomatoes earlier in the day or even the day before to save time and store in the fridge.
Note 2: I've tagged this vegan as the only non-vegan ingredient is the parmesan cheese and that can easily be left out or a vegan substitute used such as nutritional yeast