Passionfruit and white chocolate is an enticing combination although I never thought of it until I had this very flavoured muffin in a cafe once years ago and it made perfect sense – even though I'm not the biggest fan of white chocolate.  It often seems too cloyingly sweet to me but sometimes, roughly chopped bits of white chocolate in a cake or muffin just adds a little wickedness.
I made these fluffy little cakes a few weeks ago and they're so easy to whip up and look adorably rustic.  I just love drizzle icing – don't you?  Perfectly piped buttercream icing looks wonderful and so pleasingly retro …. but icing drizzled over just seems so decadent, I can never resist a dessert with anything drizzled over it.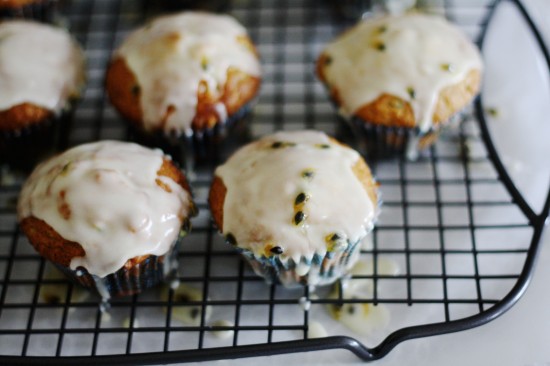 Recipe for passionfruit and white chocolate cupcakes:
1 1/2 cups cake flour
1 1/2 tspns baking powder
1/2 cup Greek style yoghurt
1/4 cup passionfruit pulp
1 tspn vanilla extract
Pinch fine sea salt
125g unsalted butter, softened at room temperature
3/4 cup raw caster sugar
2 large eggs
100g white chocolate, chopped
Drizzle Icing:
1 1/2 cups icing sugar, sifted
2 tspns milk
1-2 tblspns passionfruit pulp
Preheat oven to 180 degrees C.  Use cupcake liners to line 10 cups of a 12 cup muffin tin.  Make sure eggs, milk and chocolate are at room temperature for ten minutes or so before using.
Sift flour and baking powder into a medium bowl.  Add yoghurt, passionfruit, vanilla and salt to a jug and whisk.
With an electric mixer, beat butter in a large mixing bowl on medium speed for a minute then add sugar and continue to beat for 2-3 minutes or until light and fluffy.  Add eggs, one at a time, beating until combined.  On low speed, add dry ingredients alternating with wet ingredients in 4 parts, mixing briefly each time.  Fold chopped chocolate gently into batter with a spatula.
Spoon mixture into lined cupcake tins.  Bake for 20-22 minutes or until light golden brown (I left mine a bit too long as you can see from the photos) and tops spring back when touched.  Cool in tin for 8 minutes, then remove cupcakes onto cooling rack to cool completely, then drizzle with icing.
Icing:
Briskly mix icing sugar and passionfruit together, adding enough milk (or water) to drizzling consistency.  Use immediately.
Makes: 10 cupcakes
Note: For 1 cup cake flour: place 2 level 15ml tablespoons of cornflour into the bottom of a cup measure, then add plain (all purpose) flour until it reaches one level cup then sift a few times.
Inspired by: taste