Honestly, once you make this you'll wonder why you don't do it more often, it's so easy.
It's also the fresh herbs and garlic.  No matter how great a quick supermarket fix can be, there's no replacement for fresh herbs.  I really love the combination of spring onions, basil and continental parsley but you could use any you like really.  I haven't given exact quantities, just use a good handful of herbs, mix everything together and in 15 minutes or so you'll have fragrant, crunchy-on-the-outside-buttery-soft-in-the-middle, savoury, so delicious, herby garlic bread.  You can also make as much or as little as you like, it's very versatile that way.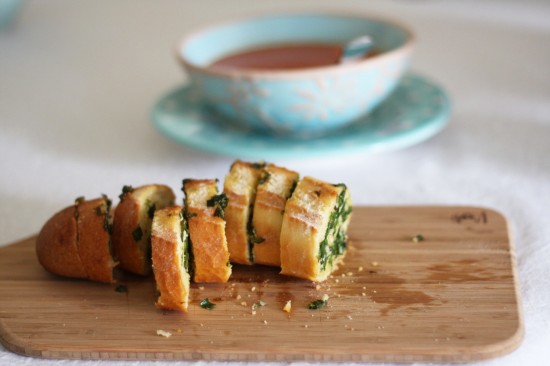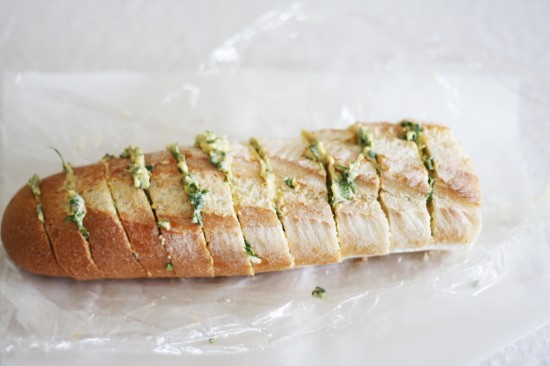 Recipe for Herb and Garlic Bread:
One sour dough baguette
3 x 15ml tablespoons butter or margarine, softened
1 x 15ml tablespoon extra virgin olive oil
Continental parsley, chopped
Basil, chopped
Green part of spring onions, sliced thinly
A couple of cloves of garlic, crushed
1 heaped tblspn Parmesan cheese, finely grated
Freshly ground sea salt and black pepper
Preheat oven to 200 degrees C.
In a small bowl, combine the softened butter, oil, herbs of your choice, garlic, Parmesan cheese, salt and pepper and mix well.
Slice baguette; not slicing all the way through the loaf, but keeping the base of the loaf intact.  Spread herb butter in between bread slices.  Wrap baguette in foil and bake for 20 minutes, or until butter has melted, the bread is fragrant and edges of bread have browned and crisped up.
Remove from the oven and serve immediately.
Serves: 5