In saying goodbye to warmer weather, I made some berry bejeweled muffins made from ingredients I just had at home, which happen to be healthy and cute at the same time (also, we're not quite ready for warm spicy treats yet, we still have our air con on currently).  The muffin itself isn't overly sweet however the berries and drizzle of icing offers some sugary charm.  I'm really happy with these impromptu little cakes, they went from a practical batch of muffins to freeze for morning teas, to something quite special for Easter in their pretty pink outfits.
You could make more icing if you prefer, in which case I would double the icing recipe.  I wanted just a drizzle so I didn't detract too much from the lower sugar, health conscious factor (also because, let's face it, I'll be eating more than my weight in chocolate over Easter anyway).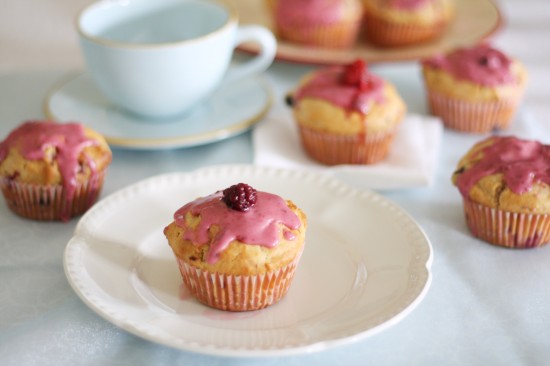 Recipe for Mixed Berry and Lemon Muffins:
2 cups self raising flour
1/4 teaspoon baking powder
180g mixed berries
1 heaped tspn lemon zest
1/2 cup grapeseed oil
1/2 cup organic rice malt syrup
1 tspn pure vanilla extract
2 large eggs, at room temp
3/4 cup buttermilk, at room temp
Berry icing:
2 level 20ml tblspns cherry berry jam (or any that you have)
1/2 cup icing sugar
1/4 tspn vanilla bean paste
Preheat oven to 180 degrees C.  Either grease 12 cup muffin tin or add cupcake/muffin liners.
Sift flour and baking powder into a large bowl.  Add lemon zest, oil, syrup, vanilla, eggs and buttermilk to a jug and whisk until combined.
Lightly mix berries into flour.  Add wet ingredients to dry and fold lightly until just combined.
Spoon mixture into muffin tins/liners.  Bake for 25 minutes or until golden brown and top of muffin springs back when pressed.
Leave muffins in tins for 5 minutes then remove onto cooling rack.  Cool completely before drizzling with icing – add a berry on top of each muffin if you have any fresh available.
Berry icing:
Warm cherry jam and vanilla bean paste in small saucepan on low heat until warm but not boiling or simmering.  Add to sifted icing sugar and stir until smooth – you might need to add a tiny bit of water to thin it out.
Makes: 10-12 muffins, depending on size