I'm always on the lookout for tasty zucchini recipes, as I love it's crisp freshness.  When I saw a recipe for zucchini pasta in a magazine years ago, I thought it looked perfect for a healthy, weekday meal so I adapted it by adding some new flavours.  I have lots of those actually.  Does anyone else have a heap of magazine recipe cutouts?  I'll often be sitting in the hairdresser, get all excited over a recipe thinking oh my god I have to make this and rip it out.  So next time you're at the hairdresser or dentist and your magazine is falling to bits, it's probably because of me, or someone like me at least.  Sorry about that.  I'm a bit of a nanna when it comes to recipes.
I love the flavours in this summer dish; a bit of heat from the chilli flakes, some freshness from the zucchini, a lemony bite, the saltiness of the feta, all tossed through hearty penne with a sprinkling of toasted nuts – it's a tasty combination.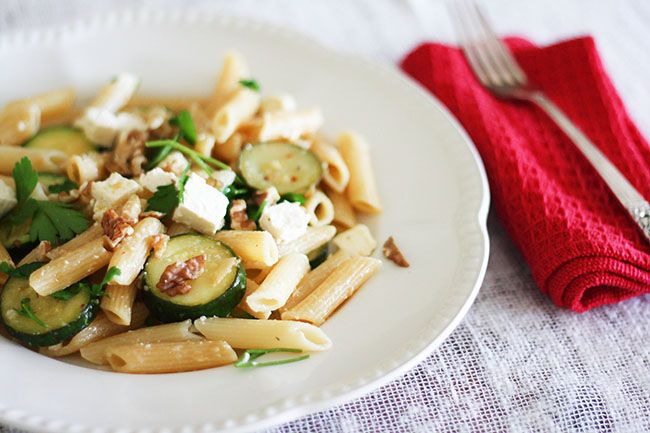 Recipe:
350g pasta
20mls olive or grapeseed oil
2 garlic cloves, crushed
A pinch dried chilli flakes
3 large zucchini, sliced
1 lemon, zested & juiced
30mls extra virgin olive oil (optional)
100g feta cheese, crumbled
Handful flat-leaf parsley & basil, chopped
Around 40g toasted nuts of your choice – I recommend pine nuts or chopped walnuts
Cook pasta in a large saucepan of salted, boiling water until al dente.
Meanwhile, add oil, garlic and chilli flakes to a large saucepan (enough to fit the cooked pasta) over low/medium heat, stirring occasionally until lightly caramelised; add zucchini and sauté until light golden on both sides but still green, continuing to stir occasionally, being careful not to burn the garlic.  I find it helps to place the lid on over the zucchini for a bit, to help it become tender.
Drain pasta, (reserving some of the pasta water) and pour into the pan with the zucchini; add lemon juice and zest, 1-2 tblspns of the reserved pasta water (and a splash of extra virgin olive oil if you like), seasoning with salt and pepper to taste.  Toss over low heat until well combined and heated through.  Take pan off the heat and stir through feta cheese & herbs.
Spoon pasta into bowls, sprinkle with nuts, and serve.
Serves 4