Cornbread is a lovely, rustic addition to soups or casseroles.  I make mine with fresh corn when I can, which means I usually make it in summer.  So although cornbread might go with more cooler weather dishes traditionally, I find it's a delicious accompaniment with a chicken salad or summer tomato soup or even as a snack for morning tea with some butter.  And I'm always partial to a bowl of chilli in summer, I'm weird like that and besides, everyone knows cornbread goes brilliantly with chilli.
I prefer my cornbread only slightly sweet, with a hint of chilli and cheese – it also depends on the quality of the corn; the sweeter and more tender the corn, the better this will be.  If you're making the loaf out of season, then use defrosted frozen corn kernels.
This loaf is soft, moist and crumbly and is at it's most delicious served warm from the oven or on the day you make it, however does freeze quite well.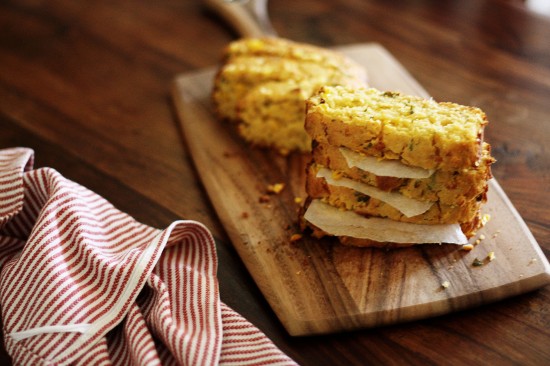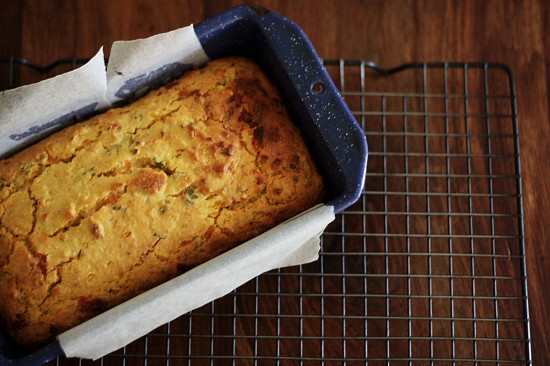 Recipe:
1 1/2 cups fresh or frozen sweet corn kernels (if using frozen, allow to defrost)
1/2 cup buttermilk
1/4 cup honey
2 eggs, lightly beaten
2 x 20ml tblspns unsalted butter, melted and cooled
1 cup self raising flour
1 cup cornmeal
1/4 tspn bicarb of soda
1/2 tspn fine sea salt
A good handful chopped continental parsley
1/3 tspn chilli flakes (or to taste)
60g grated cheddar cheese
Preheat oven to 180 degrees C (fan forced).  Grease and line a 22cm loaf tin with baking paper.
Sift flour, cornmeal, bicarb of soda and salt into a large mixing bowl.  Whisk in parsley and cheese and combine well with flour mixture.
Add 3/4 of the corn kernels with a splash of buttermilk to blender or food processor – process until fairly smooth.  Pour mixture into bowl or jug, add the rest of the corn kernels, then the buttermilk, honey, eggs and butter and whisk lightly to combine well.
Add wet ingredients to dry – fold mixture with a wooden spoon until just combined (don't over beat).  Pour into prepared pan and bake for 40-45 minutes or until top is browned and skewer inserted in the middle comes out clean.  Leave loaf in tin for 10 minutes then remove onto cooling rack.
Serves: 8-10
Best served warm from the oven or on the day it's made, however this does freeze quite well.  I pre-slice the rest of the loaf after cooling completely, double wrap loaf in plastic wrap and use within a month.  Defrost individual slices in plastic wrap in the fridge or at room temperature.