This lovely seasonal galette was made with December peaches and cherries baked on a rainy afternoon just before Christmas Day (I'm uncomfortably aware it's way way too late in the year to still be talking about Christmas but completely forgot I hadn't posted this yet and am madly going through summer recipes before we aren't in it anymore).  I mean people are talking about Easter.
But oh cherries I do love you.  Those sweet fruity treats we all go mad for in Australia and are so much a part of our Christmas I don't know what I'd do if I ever had a Northern hemisphere Christmas.  Although I'm sure I'd cope.  All that snowy, cosy holiday ambience would be experience enough.
This rustic tart was a luscious combination of sweet jammy cherries and peaches on crunchy sugar topped pastry served with a dollop of luscious cream.  Trust me, this is worth making.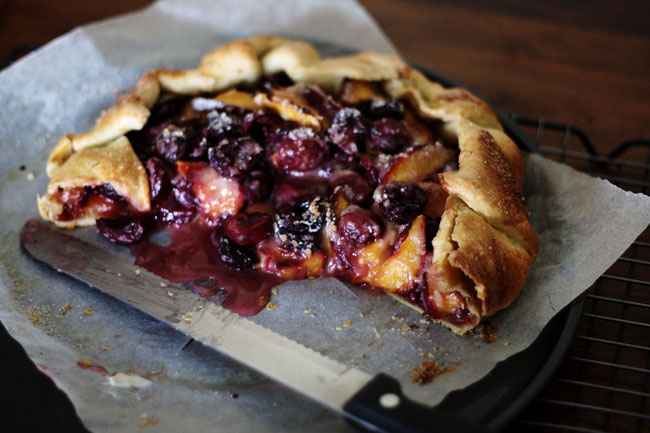 Recipe:
2 sheets ready made shortcrust pastry
3 medium sized peaches, pitted and sliced
300g cherries, pitted and halved
2/3 cup raw sugar plus extra for sprinkling
1 tspn vanilla essence
3-4 x 15ml tblspns plain flour
1 egg, splash of milk, whisked together for egg wash
Preheat oven to 200 degrees C.
Place pastry sheets on top of each other and roll out to 30cm round with a rolling pin (I used 2 sheets so it could hold up to the fruit).  Place pastry onto baking paper lined round shallow baking pan (I used a pizza tray with holes in the base and it worked really well).
Place fruit into large bowl.  Sprinkle over sugar and vanilla and mix together.  Sprinkle over flour and toss gently.  Place fruit into the middle of the pastry, leaving 2-3 cm around the side free.
Roll up the sides of the pastry into a pie shape over the sides of the fruit, leaving an open face.  Brush the egg wash onto the pastry.  Sprinkle a bit more sugar over the fruit and pastry.
Bake in oven for 30 minutes or until fruit is cooked and the pastry has browned and is cooked underneath.  Allow to sit for 10 minutes in the pan on a cooling rack before serving with cream or ice cream.
Serves: 6