My bread carbohydrate addiction started early in life.
After school, I'd run home from the bus stop, throw my bag in my room, my dog Goldie panting at my heels, run into the kitchen and cut massive doorstops of mum's homemade wholemeal bread and add peanut butter or Nimbin cheese (the best cheddar cheese), think wistfully of the soft, white supermarket bread my friends were given to eat, take my horrible school shoes off, pull on my wellies and sit on the doorstep scarfing down my sandwich before going for a bike ride or visiting my friends across the road and their horse.  Consequently I'd pick unenthusiastically at dinner but it was worth it, even with mum giving me heaps about it.
So I had a longing for those school day doorstop sandwiches which then led to me thinking about making my own relish which I've never done before, probably because I have a morbid fear of canning related botulism (or something like that).  Luckily I found this recipe which requires nothing more stressful than a covered container in the fridge.
For most of the cooking time the mixture looked pretty much like cooked down tomatoes so I wondered if I'd missed something or put too much of something in.   At one point after the 3/4 way mark though, I checked the pan to give the mixture a stir and was pleasantly surprised; I saw it was amazingly sticky and jam-like and I felt quite clever even though this is possibly the easiest recipe in the world.
This relish is absolutely delicious – spicy, sweet and substantial and trust me, you won't want to buy store bought again after trying this.  It's that good.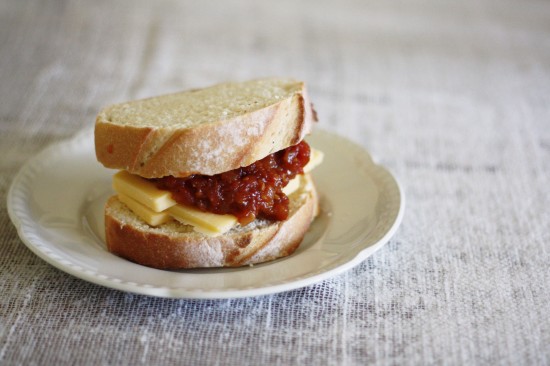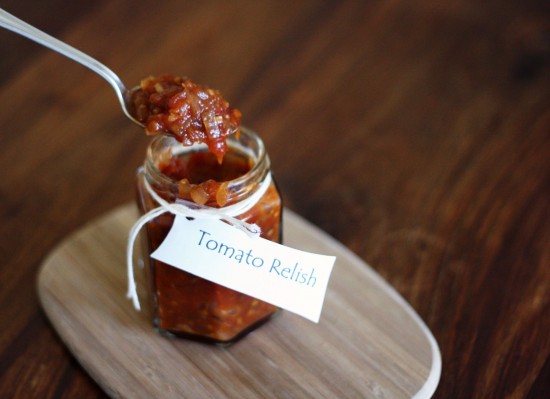 Recipe:
400g vine ripened, ripe Summer tomatoes
1 x 20ml tblspn grapeseed oil (or any flavourless oil)
1 medium red or brown onion, diced finely
2 large garlic cloves, peeled and crushed
1 small red chilli, very finely diced (remove the seeds if preferred)
1/4 cup firmly packed brown sugar
1/4 cup malt vinegar (brown vinegar)
Freshly ground sea salt and black pepper, to taste
Using a sharp knife, cut a shallow cross about 3cm long, through the skin on the base of each tomato.  Place tomatoes in a medium-sized heatproof bowl and cover with just boiled water.
Leave tomatoes in the water for 40 seconds.  Remove tomatoes from the water with tongs and use a small knife or your fingers to peel the skin away from the tomato flesh (this is tedious but easy).  Finely dice the tomatoes.
Add onion, garlic and chilli to the oil.  Cook down on low to medium heat for around 8-10 minutes, until onion is transparent and soft and slightly caramelised.  Add tomatoes, sugar, vinegar and seasoning to onion mixture.  Bring to high sizzle, then immediately lower heat until tomato mixture is simmering gently – for one hour.  Stir every 10-15 minutes or so – you might need to turn the pan up slightly as the mixture thickens.
Once mixture has thickened and has a jam like consistency, remove from the heat, cool down to room temperature then store in air tight container in the fridge.
Serve with home made hamburgers or vegie burgers, cheese sandwiches, vegie hot dogs or grilled steak or chicken.
Adapted from: Exclusively Food