Apologies for the wordy title but … I had no idea what to call these saucy little tarts (ooh missus!).
I'm a sucker for this type of hedonistic dessert – there's something fundamentally appealing about the combination of fudgy cookies, cold, creamy ice cream with chocolate sauce and not minding getting chocolate all over your face while you're eating it.  It's perfect for a romantic dessert (blokes love cookies, ice cream and chocolate sauce.  They do, go on ask them.  Actually girls do too, for that matter).
I was going to make a traditional chocolate sauce using cream and chocolate but then came across this wonderful recipe by David Lebovitz which is easy, low fat and lasts a good while in the fridge.  However don't let those mere practical considerations sway you; this gorgeous, deeply dark chocolate sauce becomes thicker and even more decadent after standing for a couple of hours and trust me, doesn't taste low fat in the slightest (always a good thing!); in fact I kept walking by the pan in the kitchen and couldn't resist a spoonful.  Once you make this, it will be the only chocolate sauce recipe you'll ever need, and lifted my dessert idea from something nice but fairly ordinary to special.
You could make your own chocolate chip cookie dough.  I didn't.  To be perfectly honest, if I'm making cookie dough from scratch, I'm making cookies to eat on their own, not to squish in a tin to bake, then plonk ice cream and chocolate sauce on top of, but that's just me.  I mean the cookies are important, don't get me wrong, but they don't need to be homemade.
I hope you all have a lovely Valentines Day ♥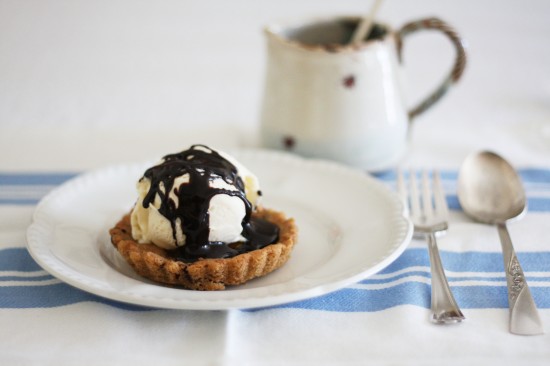 Recipe:
200g raw chocolate chip cookie dough (for Australians, I used Aunty Kath's)
4 large scoops vanilla bean ice cream or any other flavour you're partial to
Chocolate sauce
Preheat oven to 175 degrees C.  Grease 4 x 8cm tart tins with removable bases.  Press around 50g of cookie dough into the base and up the sides of each tin evenly.
Bake for 10-12 minutes or until golden and just baked – I prefer them still chewy, leave them a bit longer if you prefer them crisper.  Leave to cool in tins for 8 minutes then, using a butter knife, gently separate the tart from the side of each tin, move the base upwards, and use an egg flip or the butter knife to slide under the cookie base and remove carefully onto cooling rack to cool completely.
Place scoop of ice cream in each tart base and pour over chocolate sauce.  Serve immediately.  If not sooner.
Serves: 4
Note: for the chocolate sauce I used organic rice malt syrup and raw sugar as sweeteners