I do love a classic potato salad.  I've always enjoyed zesty, creamy ones so didn't add anything to sweeten it up – if you prefer a sweeter salad, just replace some of the sour cream with mayonnaise.
I make this recipe every summer and it's a great combination of creamy and fresh with extra virgin olive oil, white wine vinegar, freshly picked herbs and some crunchy red onion and celery.  It goes really well with grilled steaks or chicken.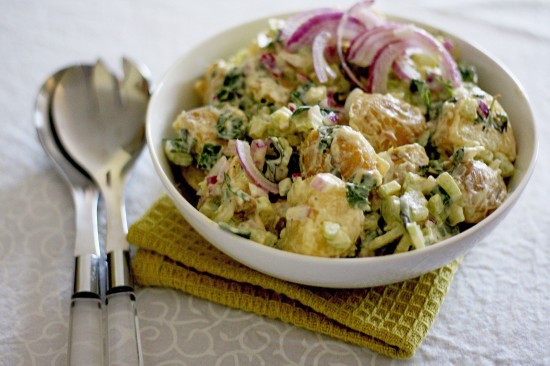 Recipe:
600g organic Dutch cream potatoes, skin left on, diced and boiled until tender
1 large stalk celery, finely diced
1 small or 1/2 medium red onion, finely sliced
Spring onions, diced
Handful basil and continental parsley chopped fairly finely
2 x 15ml tblspns extra virgin olive oil
Pinch raw caster sugar
10mls Dijon mustard
1 x 15ml tblspn white wine vinegar
100ml light sour cream
Freshly ground black pepper and sea salt
Whisk olive oil, sugar, mustard, vinegar, sour cream and seasoning together.  Add herbs and mix until combined.  Toss 1/2 of the dressing gently with potatoes, celery and onion while potatoes are still a bit warm.  When potatoes have cooled, add the rest of the dressing.
Store in the fridge until ready to use – leave out at room temperature for 10-15 minutes or so before serving.
Serves: 4