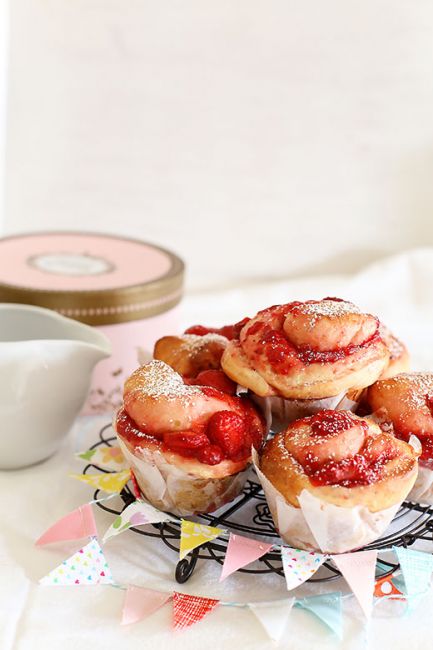 It's been raining heavily here for the past few days and doesn't look like letting up any time soon.  Rain's lovely, for a night or so, drumming on the roof in that comforting way while I'm reading and listening to music, but goes on for too long and it makes everything a bit flat and gray.
Anyway. I pulled my socks up and decided to do some baking.  I thought initially of blueberry and maple rolls but didn't have blueberries so used the frozen strawberries I had in the freezer instead to fill the rolls with a sticky, jammy filling and made a vanilla glaze for the top.  These aren't neat buns by any means, they're stuffed with filling which tends to bubble over the top while baking.  I've made these a few times and found that they are best baked in muffin tins, rather than in one big tin and as you can see from the note below, the recipe's been adapted a bit along the way.
These are a hearty, quite rich sweet roll, they're great for breakfast or brunch with a cup of coffee.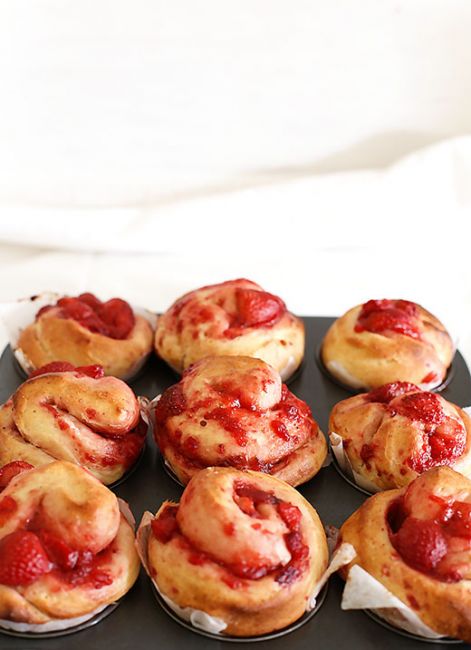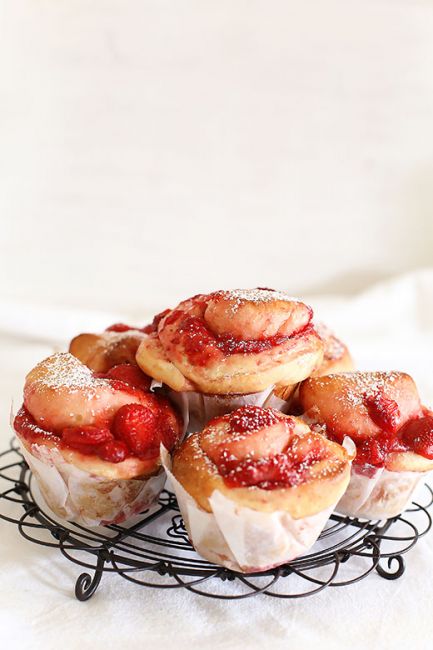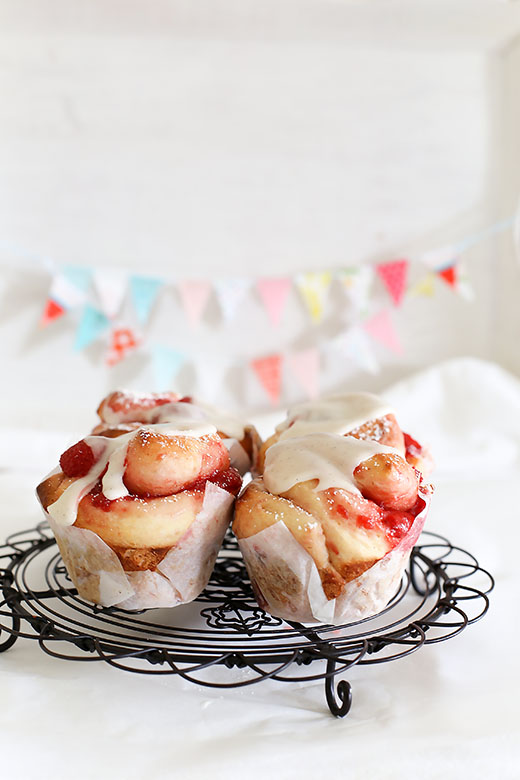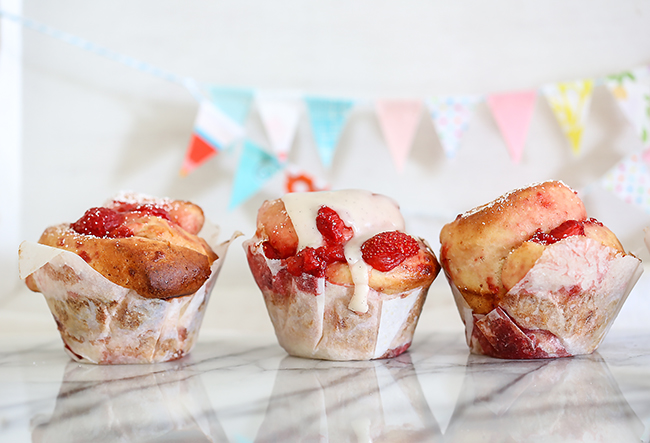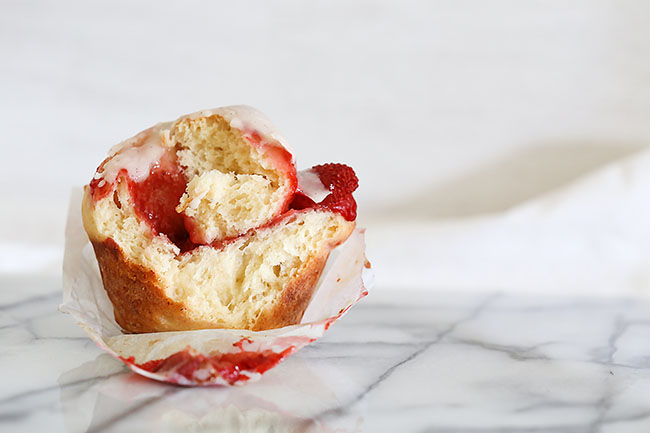 Recipe for strawberry rolls:
Dough:
3/4 cup buttermilk
1 tspn vanilla concentrated extract
60g unsalted butter
1 1/2 tspns instant dry yeast
1/2 cup white caster sugar
Pinch fine sea salt
2 large eggs, whisked lightly with a fork
2 3/4 cups plain flour
Filling:
300g frozen strawberries
1/2 tspn vanilla concentrated extract
1/4 cup sugar
2 x 15ml tblspns cornflour mixed with 30mls water until of smooth consistency
Icing:
1 cup icing sugar mixture (if using pure icing sugar, sift first)
1/2 tspn vanilla bean paste
1 x 20ml tblspn milk
Dough:
Make sure chilled ingredients are at room temperature before using.
Set aside a flat, clean surface lightly floured.  Keep some excess flour aside to work with.  Grease a large ceramic or glass bowl.
Warm the buttermilk and butter in a small saucepan over low/medium heat just until warm and butter is starting to melt (don't let it boil).  Stir through vanilla and butter until melted, then set aside to cool until luke-warm (this is important).
In a large bowl, whisk the milk mixture, yeast, sugar, salt and eggs – use a wooden spoon to fold in 1 cup of flour, then fold in the remaining flour gradually, 1/2 cup at a time.  When the dough has come together in a sticky ball (you might not use all the flour although I tend to), turn it out onto a clean, lightly floured board and knead for about 6-10 minutes (this will depend on how vigorous your kneading is).  The dough should end up warm, smooth, elastic yet still soft.
Place ball of dough into prepared bowl.  Cover with plastic wrap then a damp tea towel and allow to rise in a warm, still place for an hour, or until doubled in size.
Filling:
Place strawberries, sugar and vanilla essence in small pan, bring to medium/high heat; as soon as sauce starts to become more fluid, add cornflour mixed with water and stir quickly to avoid lumps. Continue stirring until strawberries are soft yet still intact and sauce is stickyish – this takes around 2-3 minutes. Allow to cool completely before using.
Grease 9 cups of a 12 cup muffin tin with butter then place squares of baking paper into each greased cup, pressing into the base and sides.
Punch dough down, then knead lightly a few times; use a lightly floured rolling pin to roll into a 30 x 25cm rectangle on a flat, lightly floured surface.  Spoon strawberry filling into the middle of the dough and spread out evenly, leaving a 2-3 cms or so around the edges (the filling should squeeze out towards the edges when you roll up the dough).  Roll up dough from the long end as tightly as you can (don't worry if it's a bit messy).
Use a sharp knife to cut roll into 9 even slices using a very sharp knife.  Place rolls, sliced side up, into muffin cups, rolling them together if they fall apart a bit.  Cover loosely with cling wrap and let rise in a warm, still place, about 45 minutes.  I found they didn't rise a huge amount, probably because of the filling, however rose in the oven very nicely.
Meanwhile, preheat oven to 180 degrees C.
Bake rolls in preheated oven for 25-30 minutes, or until golden brown.  Turn tray around after 15 minutes for even browning if you prefer.  They're ready when tapping them makes a hollow sound.
Allow to cool in the tins for 15 minutes then spoon icing over rolls.  Alternately, you can dust over a bit of icing sugar instead.
Icing:
Sift icing sugar into medium sized bowl.  Add vanilla paste and milk to icing sugar and mix until of thick drizzling consistency; add a bit more milk if it's too thick for your liking.  Make icing just before using.
Makes: 9 rolls, best eaten warm or on the day.  If you really need to store them for future use, I would wrap them tightly in cling wrap after they've cooled completely and freeze them for up to a month.  When ready to eat, defrost in the fridge overnight then at room temperature for 10 minutes or so; you could even warm them up slowly in the microwave.