Pikelets are one of those nostalgic morning teas most of us in Australia grew up with, although apparently they're Welsh in origin.  I love that they're a cross between a cake and a pancake, sort of a cakey pancake.
They were lovely just dusted with icing sugar and a pot of tea.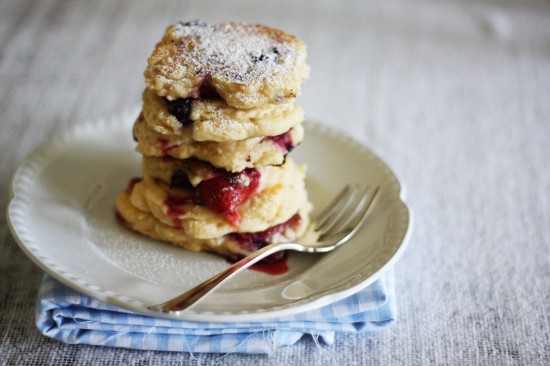 Recipe for mixed berry buttermilk pikelets:
1 1/4 cups self raising flour
2 x 20ml tblspns raw caster sugar
1/4 tspn fine salt
250mls buttermilk
1 large (59g weight) egg
50g unsalted butter, melted and cooled a bit
3/4 tspn vanilla extract
1 cup mixed berries
Sift flour, salt and sugar into a mixing bowl.  Whisk the buttermilk, egg, butter and vanilla in a jug until combined.
Add the wet ingredients to the dry ingredients and stir to just combine then gently fold through berries.  You might need a bit more milk to thin out the batter if it's too thick.
Heat a large non-stick frying pan over medium heat.  Brush with a decent pat of butter.   Spoon heaped tablespoons of the mixture into the pan.  Cook for about 1-2 minutes on one side (or until tiny air bubbles show on the surface), flip over and cook for a further 1-2 minutes or until browned and cooked through.  Turn the heat down as you go to prevent burning.
Transfer pikelets to a foil covered plate and layer on top of each other between batches to keep warm.  Repeat process with the remaining mixture.
Serve warm or at room temperature with icing sugar.
Makes: around 6 (I think!)
Adapted from: australianfood.about.com