Living in a big city where food is so easily accessible, lunch is one of those meals which is often neglected; it seems more convenient to grab fast food sometimes, especially on stressful days.  It's just as easy though, and well worth it to whip up a delicious and healthy meal at home in a matter of minutes.
So I thought I'd talk about some simple and healthy lunches I often have.
These meals can be adapted to take to work as well – simply place everything in small containers and assemble at lunchtime.  It's healthier not to pre-slice vegies too far in advance if you can avoid it – I prefer to take fruit and vegetables to work whole and slice them before I eat them.
1. Two slices of wholemeal bread lightly spread with butter or margarine, sliced radish and Lebanese cucumber sprinkled with cracked black pepper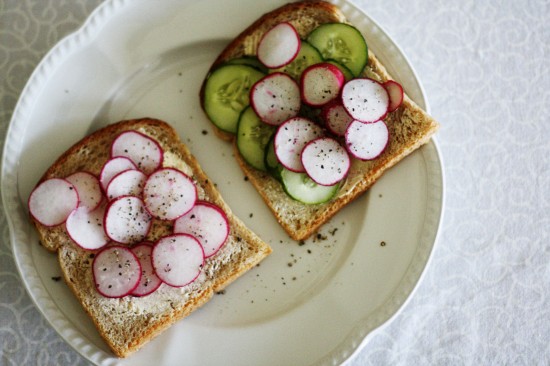 2.  Smoked tuna slices, sliced avocado, sliced spring onions and cracked black pepper on toasted sourdough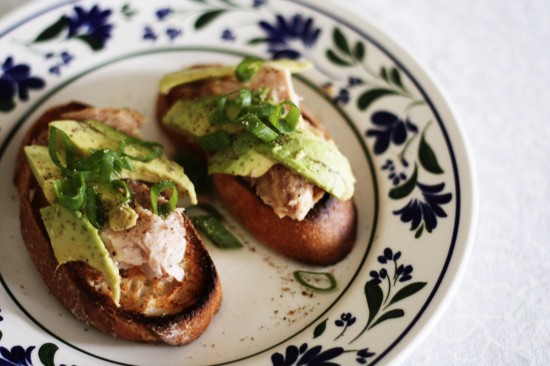 3.  Preheat oven to 160 degrees C.  Toss as many halved cherry tomatoes as you like with a small drizzle of grapeseed or olive oil, season with salt and pepper and roast for 45 minutes to an hour.  Set aside to cool while you toast a sliced poppyseed bagel.   Spread a 20ml tablespoon of tahini over the cooled bagel and add the cherry tomatoes.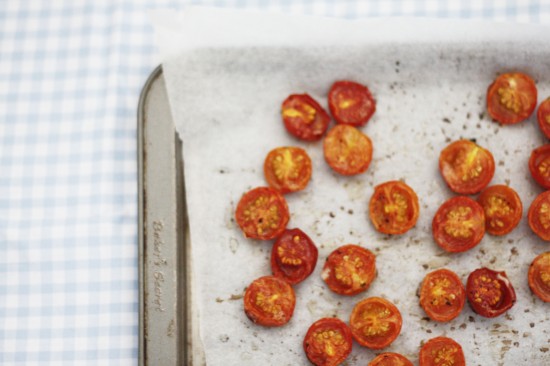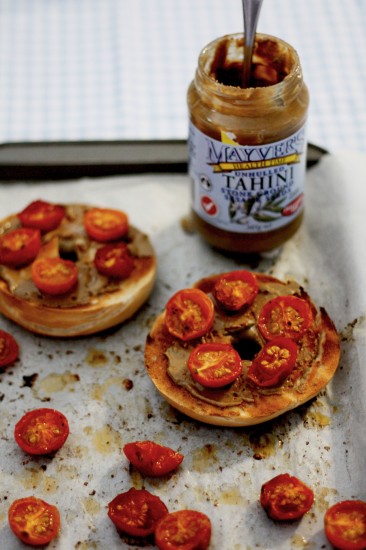 4.  Mash roughly with potato masher, one 400g tin of rinsed and drained chick peas, 30ml extra virgin olive oil, squeeze of lemon, 1 teaspoon of lemon zest, freshly ground sea salt and black pepper to taste; serve on toasted sourdough bread with a pinch of chilli flakes and some chopped Continental parsley.  Drizzle with extra olive oil if you like.
Tip:  Find a decent brand of tinned chickpeas and stock up.  I've had some truly awful ones – the right ones should be nutty and subtly flavoured.  The brand I use is Amato organic if that helps.  Alternately, you could cook your own dried chickpeas which I do sometimes, but being a spontaneous cook I find it easier to use tinned ones.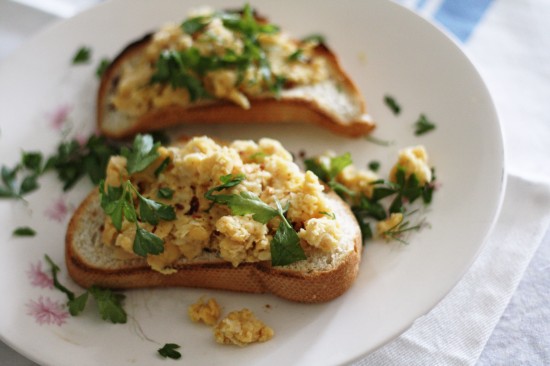 5.  Boil a cup of water and add 30g of soba noodles to simmer on medium heat until cooked (depending on the brand, they take between 2 and 4 minutes); place a 15ml tablespoon of miso paste into a cup or small bowl, pour in the water and noodles and whisk until combined.  Sprinkle over some spring onions.  Serve with a just hard boiled egg on the side.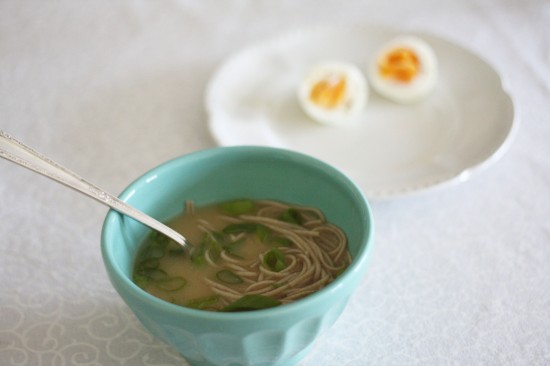 And for more inspiration click on a leafy salad with avocado and walnuts or a healthy egg salad sandwich.