Baked cheesecake is one of two of my favourite desserts in the whole world ever (the other is creme brulee).  I don't make it often because despite normally avoiding moral judgments about food, it's difficult to rationalise eating quite so much fat and sugar in one sitting in a normal day-to-day setting.  And I refuse to make low fat desserts on principle.  Like I refuse to eat low fat mars bars or low fat cheese.  If you're going to eat something, do it right I always say.  I'd rather eat a little bit of something delicious than a whole lot of nothing.  But that's me.
So.  Cheesecake is one of those desserts that's a real treat and was well received on New Year's Eve.  Kind of a last hurrah before the grim, diet-filled, alcohol free days of January (although check back soon for a wholesome yet deliciously creamy smoothie which will pave the way to a healthier lifestyle).  And because I can't leave well enough alone (I'm always putting sauces on my dishes, I suspect I have a deep seated thing for pseudo 1980s Nouvelle cuisine) I thought I'd whip up a fresh, sweet cherry sauce to go on the side.
This recipe is amazing.  The creamy, tangy cheesecake went so well with the juicy sweetness of the cherries and paired perfectly with a cup of strong coffee.  And we froze the rest.  Right up the back of the freezer behind the organic wholemeal bread with the 1/2 bottle of vodka left over from Christmas and New Year's.
Bring on February.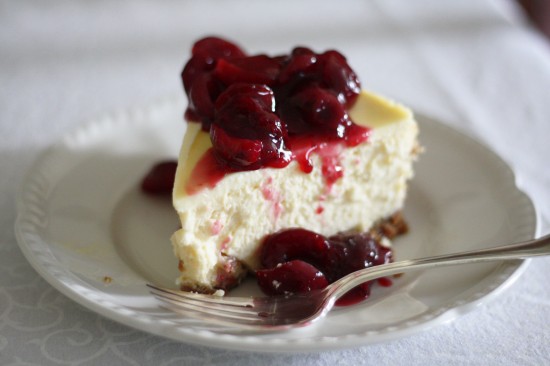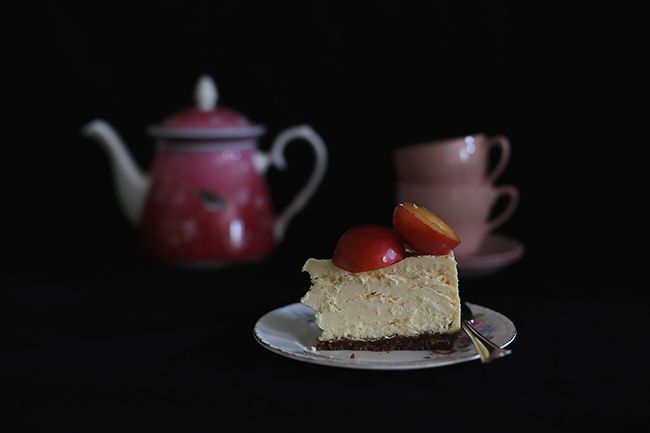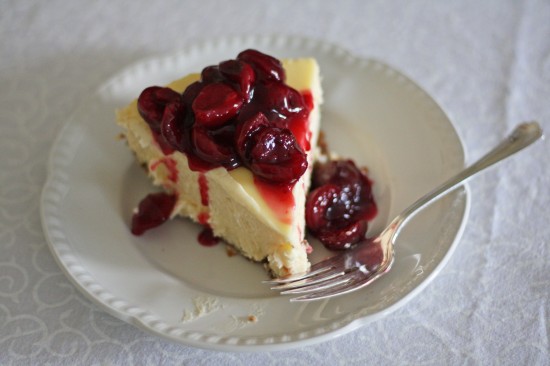 Recipe for New York baked cheesecake with cherry sauce:
Base:
250g plain sweet biscuits, crumbed (*)
100g unsalted butter, melted and cooled a bit
Cheesecake:
4 x 250g packs full fat cream cheese, softened at room temperature
1 cup + 2 x 15ml tblspns white sugar
3 x 15ml tblspns plain flour
5 large eggs, at room temperature
1/3 cup heavy whipping cream, at room temperature for 5 minutes
3 tspns lemon zest, finely grated
1 tspn vanilla concentrated extract
Topping:
1 x 250g tub full fat sour cream, at room temperature for 5 minutes
2 x 15ml tblspns white caster sugar
1/2 tspn vanilla concentrated extract
Cherry sauce:
400g frozen or fresh pitted cherries
2 x 20ml tblspns sugar
2 tspns lemon juice
1 tspn vanilla concentrated extract
3 tspns cornflour mixed in with a tablespoon of water – then add 1/3 cup of water and stir to combine
Preheat oven to 180C and make sure rack is in the middle of the oven.  Grease a 20cm cheesecake tin with a removable base very well.  Find a flat baking pan for the cake tin to sit on later.
Add biscuit crumbs to a small to medium sized bowl and add butter gradually, stirring until it's the texture of damp sand (you may not need all the butter); pour into the prepared tin.  Use your fingertips to press the crumbs evenly over the bottom and about 1-2cm up the sides.  Store in the fridge while you make the cheesecake filling.
Place cream cheese, sugar and flour into a large mixing bowl and use electric mixer on medium speed to beat until smooth, around 2 minutes; scrape down sides of bowl a few times.  Add the eggs, one at a time and beat on low speed between each addition just until incorporated.  Add cream, lemon zest and vanilla and continue beating on medium speed until incorporated; don't over-beat.  Remove crust from the fridge and pour the filling into the cheesecake tin.
Place the cheesecake onto the baking pan and place into the oven.  Bake for 15 minutes then lower the temperature to 120C and continue baking for 1 hour to 1 1/2 hours, or until firm with a slightly liquid and wobbly centre (mine took 1 hour + 10 minutes at this point).  Carefully remove from the oven and place onto a cooling rack.
While cheesecake is baking, mix sour cream, sugar and vanilla in a small bowl until combined and creamy.  Once the cheesecake is out of the oven, spread the topping carefully and evenly over the warm cheesecake and return it to the oven and bake for a further 15 minutes.  Remove from the oven, place onto a cooling rack and very carefully run a butter knife around the sides of the pan to loosen the cake.  This will help to prevent surface cracks once it cools.
Allow to cool completely in the tin at room temperature before placing onto foil to cover up the base and sides then covering with double plastic wrap and storing in the fridge overnight or for at least a few hours.
Once firm, remove from cake tin carefully and serve slices with cherry sauce.
Cherry sauce:
Add cherries, sugar, lemon juice and vanilla to a medium saucepan and bring to boil, then simmer over medium heat for 2 minutes.  Add cornflour and water to sauce and stir quickly to combine.  Continue to simmer sauce on medium heat, stirring, for a further 2-3 minutes until thickened but cherries still intact.  Allow to cool to room temperature before serving with cheesecake.
Serves: 12-16
(*) you can use whatever plain, sweet biscuits or cookies you prefer – just be aware that the amount of butter needed may be more or less.
Adapted from: Joy of Baking
Cherry sauce is my own recipe
Note:  cheesecake can be frozen (without the sauce) for 3 months.  Place cake on a flat baking pan and freeze until firm, for 2 hours or so  Wrap whole or in individual slices in foil and place in a well sealed freezer bag with the air removed.  Thaw in the fridge overnight before use.