I don't often make my own pizza base.  Sheer laziness I suspect but you know, I really enjoy kneading dough, it's quite therapeutic and satisfying.  I felt like a bit of energetic kneading recently so I whipped up a simple pizza from scratch, using seasonal vegetables – the best kind.
Roast vegetables are so sweet and the nice hit of salty olive flavour and crunch from the pine nuts was a great combination.  And I don't like a lot of cheese on my pizza; I prefer a handful of good cheese rather than a lot of mediocre cheese and besides, the really cheesy pizzas remind me too much of Tuesday night cheap pizza nights when I was a student (not that there's anything wrong with that!), I mean I'll enjoy a takeaway pizza and a beer or two with the best of them but making your own pizza sans beer is a lot of fun and you don't feel guilty the next day.  Pizza and beer guilt, it's the worst.
Absolutely no need for guilt here.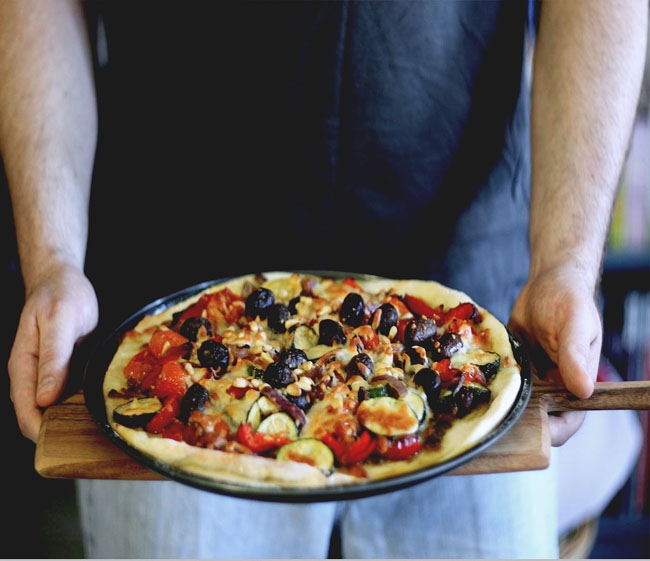 Recipe:
Pizza Base:
200g bread and pizza flour
2g (1/3 tspn) dried yeast
1/2 teaspoon fine sea salt
1/2 cup lukewarm water (might need more depending how dry or humid the weather is)
1 x 20ml tblspn basil pesto
Olive or grapeseed oil
250g cherry tomatoes, halved
1 small red, yellow or orange capsicum, sliced
2 medium sized zucchinis, sliced in rounds
1 medium red onion, sliced thinly
Handful kalamata olives, pitted
Mozzarella and Parmesan cheese, grated and combined
20g pine nuts, toasted
Combine flour, yeast and salt in a large bowl.  Slowly pour water into bowl and mix ingredients together with a wooden spoon.  If the mixture is a bit too dry, add more warm water a tiny bit at a time until dough comes together.
Turn onto a clean, floured bench and knead for 8-10 minutes or until the dough is smooth and springy.  Pizza dough tends to be a bit dry and flaky to start with but it does come together eventually.
Place the dough in a clean, oiled bowl, cover with plastic film and a damp tea towel and leave in a warm, still place to double in size – about an hour or so.
Once the dough has finished rising, turn onto a floured, clean surface.  Roll out the dough ball to the desired size pizza base; be careful not to roll too thin so the dough doesn't tear – place onto prepared pan.
Meanwhile, while dough is rising, roast the vegetables;  preheat oven to 200C.
Toss the cherry tomatoes, capsicum, zucchinis and red onion in 2 tablespoons of olive oil, season with sea salt and cracked black pepper, place on baking tray and roast until browned, around 20-25 minutes.
Spread pesto onto the pizza base and place onto oiled baking tray.
Remove vegetables from the oven and increase oven temp to 220 degrees C (210 degrees fan forced).  Using a slotted egg flip, place the vegetables evenly over the pizza base then place whole olives, pine nuts and a handful of grated cheese over the top.
Bake for 12-15 minutes, or until the pizza has browned and is bubbling and the base is cooked through.
Serves: 2
Pizza base adapted from: Taste