Well so much for that rainy weekend we expected, still got some reading in though.
I've been wanting to try this recipe, ever since I purchased Super Natural Every Day by Heidi Swanson.  I've been a longtime fan of  Heidi's blog, 101 Cookbooks, in fact hers was one of the first food blogs I started reading a few years back.
I loved this luscious, fruity and nutty dish, it was gorgeous.  I knew I was going to like it, aside from using some of my favourite ingredients, around 10 minutes before it was ready the fragrance from the oven was fantastic; all sweet, cinnamony, reassuring and pudding-like, and for breakfast.
I used strawberries, blackberries, blueberries and raspberries and sweetened the oats with maple syrup instead of sugar.  I also had mine with a dollop of Greek yoghurt and a bit more maple syrup.  It tasted exactly as it should – this was a treat for sure.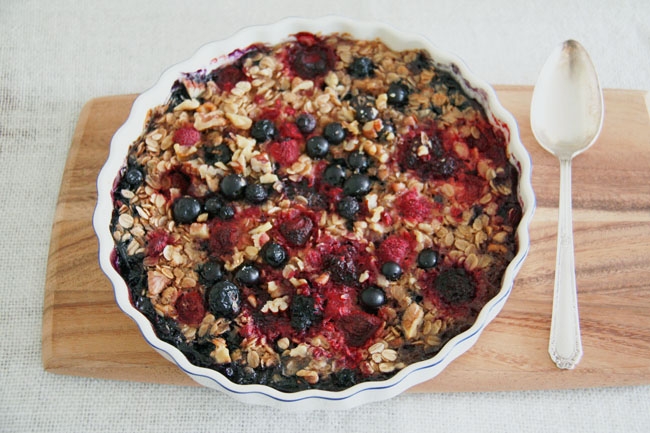 Recipe for baked oatmeal:
2 cups whole oats
1 tspn baking powder
1 tspn cinnamon
1/2 tspn mixed spice
1/4 tspn ground nutmeg
Pinch salt
2 cups milk of your choice
1/3 cup maple syrup
1 large egg
50g unsalted butter, melted & cooled a bit
2 tspns good vanilla extract
1 medium banana, sliced medium thickness
40g walnuts, chopped coarsely
200g mixed berries
Preheat oven to 180C.  Grease a 20cm baking dish.
Add the oats, baking powder, spices and salt to a large bowl and whisk lightly.  Add milk, maple syrup, egg, the melted butter and vanilla to a jug and whisk well.
Place sliced bananas in one layer on the base of the baking dish.  Sprinkle 3/4 of the berries over the bananas then cover with the oat mixture.  Gradually pour the milk/maple syrup mixture over the oats then lift the baking dish up and gently whack onto a flat surface a couple of times so the mixture disperses.  Scatter the walnuts and berries over the top.
Bake for around 40 minutes, or until set and the top is light golden.  Allow to cool for 5 minutes or so, then serve with Greek yoghurt, cream or a bit more syrup.
Serves: 6
Slightly adapted from: epicurious