I made a rustic (read: messy, I tried to place the vegetables in neat little rows but gave up) gratin tonight for dinner.
Classic summer produce with olive oil, seasoning, some herbs and a good cheese – when baked, this has a lovely, herby oil on the base of the pan which you have to drizzle over your plate.  A lovely, crusty piece of bread would be great alongside also.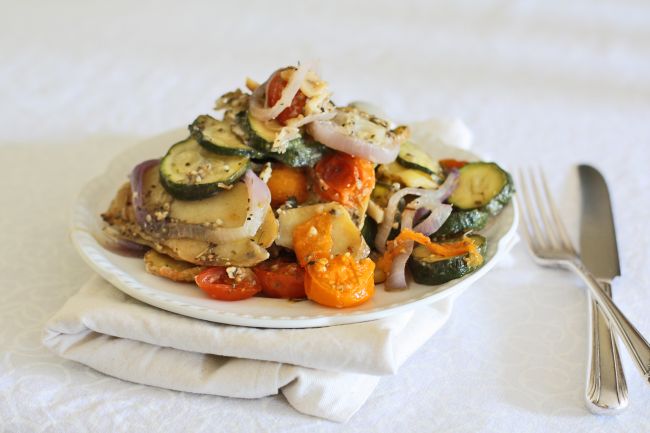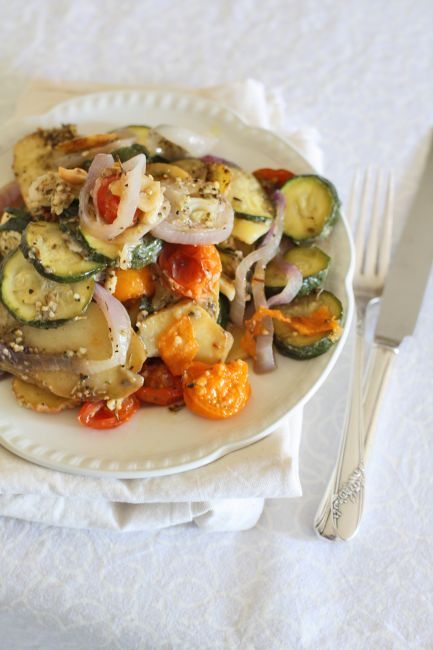 Recipe:
3 large zucchini
4 large tomatoes
4-5 medium organic potatoes, skin left on
1 red onion, sliced
3 cloves garlic, crushed or sliced thinly
Olive or grapeseed oil
A sharpish hard cheese, grated (pecorino or parmesan) OR vegan cheese substitute
Herbs of your choice – I used Tuscan herb seasoning
Freshly cracked black pepper and sea salt
Crusty bread or rolls to serve
Preheat oven to 200 degrees C.
Slice the potatoes thinly, either with a sharpened knife or mandoline then slice the tomatoes and zucchini.  Layer vegetables in oiled, shallow casserole dish, sprinkling herbs, seasoning (you shouldn't need too much salt), crushed garlic and cheese then drizzling with oil between layers.  Be fairly generous with the cheese and oil.
Sprinkle cheese and herbs over the top then drizzle more oil over and place covered with foil in preheated oven for 35 minutes.  Remove foil and bake for another 30 minutes or until golden brown and vegetables are tender (I test the potatoes with a skewer to make sure).
Serves: 3-4 sides, 2 mains
Note:  Instead of slicing whole tomatoes, halve 250g coloured cherry tomatoes and sprinkle over the top of the sliced vegetables, drizzle with oil and sprinkle over finely grated Parmesan and black pepper and cook as above.