I made a batch of dreamy brownies to celebrate my move to A Splash of Vanilla and also to celebrate a year of blogging (I'm a bit late but then I'm hopeless at remembering anniversaries).
Now I made these purely because I accidentally bought a tub of cream cheese.  I have no idea why or how but it appeared in my fridge and as I don't use cream cheese a lot, I thought I'd make cheesecake brownies, as you do.  I also had sour cream for no apparent reason so I used that as well.
You might say I impulse buy a lot when I do the grocery shopping.  You might be right.  Anyway, think fudgy chocolate cake with a layer of cheesecake and tart raspberries.
Thanks to all the lovelies who visit my blog  ◕ ‿ ◕ ✿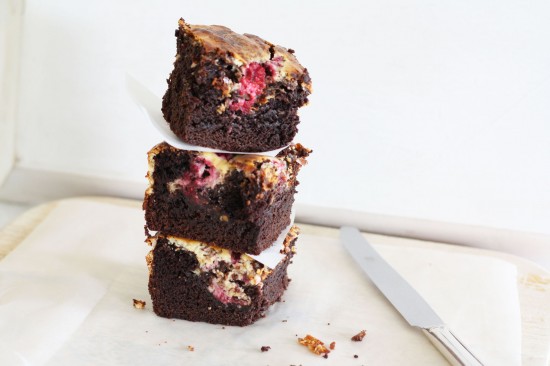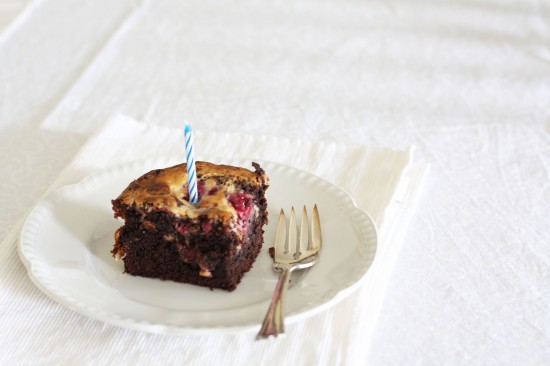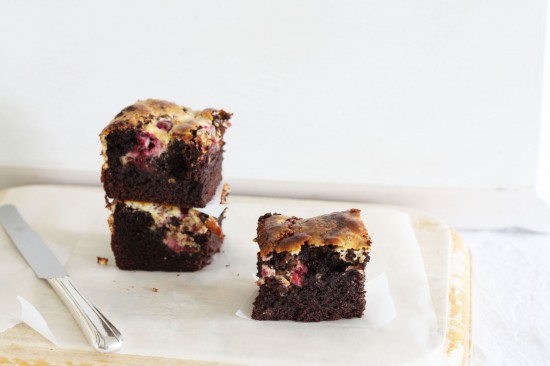 Recipe:
250g PHILADELPHIA Cream Cheese, softened
1/3 cup caster sugar
1 egg, lightly beaten
1½ cups plain flour
1¼ cups caster sugar, extra
½ cup cocoa
1½ teaspoons bicarbonate of soda
150g unsalted butter, melted and cooled to room temp
½ cup sour cream
2 eggs, extra, lightly beaten
1 teaspoon vanilla essence
100g raspberries
Preheat oven to 180 degrees C (160 if fan forced).  Grease and line the base of a rectangular brownie or slice tin.
Beat the cream cheese and sugar with an electric mixer until smooth then beat in the egg.
Sift the flour, extra sugar, cocoa and bicarb soda into a mixing bowl.  Combine the cooled butter, sour cream, extra eggs and vanilla in a jug then pour into the dry ingredients, folding until combined.
Pour the mixture into prepared tin and smooth top with a flat bladed knife.  Pour cream cheese mixture on top of brownie mixture – sprinkle raspberries over the top.   Swirl the cream cheese into the brownie mixture with the flat blade of a butter knife.
Bake for 45 minutes or until firm around the sides but still a bit soft in the middle.  Allow to cool on a wire rack for 10 minutes before slicing into squares.
Serves: 12
Adapted from: Philadelphia
Note:  I used a square cake tin (what is it with me and using the wrong cake tin??  Hopeless).  Anyway, mine turned out a bit more like cake which was lovely, but not as gooey as brownies would have been.