I've come to realise I really enjoy the change of seasons even more than the actual seasons themselves.  You know, that first hint of coolness in the air signalling Autumn, or after a long, coldish winter you walk outside and have to take your jumper off because it's too warm and you can smell spring, feeling the heat on your skin.  After a couple of months you start complaining about the weather but at the start, it's just magical.
One of the best parts of Spring is the vegetables.  Fresh, sweet tasting, and you hardly need to do anything with them.
I thought I'd throw together a simple pasta dish with some flavours of spring and a lemony kick.  It's a tiny bit early for tomatoes but the little baby ones are tasting great already.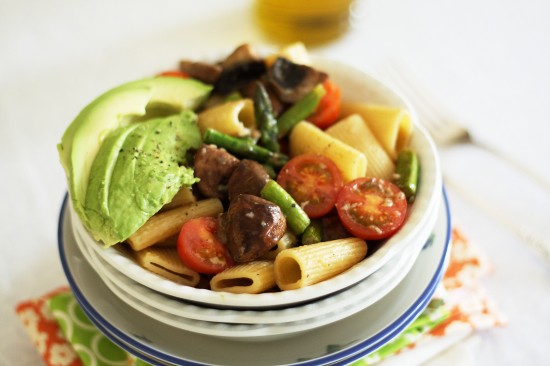 Recipe:
220g rigatoni pasta
2 x 15ml tblspns butter or cooking margarine
2 cloves garlic, crushed
200g Swiss brown mushrooms, halved (or quartered if large)
1 heaped tspn lemon zest
1 bunch asparagus (around 10-12 stalks), cut into thirds or quarters (depending on their size – bite size is good)
1 x 250g punnet cherry or mini tomatoes, halved
40g finely grated Parmesan cheese
Extra virgin olive oil
1 medium sized avocado, sliced (optional)
seasoning
Add 220g rigatoni pasta to salted, boiling water for 11 minutes, or until al dente.
Meanwhile, in 20cm pan, saute crushed garlic in butter for 2 minutes on medium heat.  Add asparagus and lemon zest and toss through butter mixture – turn heat down to low – medium and cook for 3 minutes.  Add mushrooms and saute for 5-7 minutes (the asparagus should be crisp, sweet and green and the mushrooms tender).  Add sea salt and ground black pepper to taste towards the end.
Drain pasta and add back into the saucepan onto low – medium heat.  Add decent splash extra virgin olive oil and tomatoes.  Heat for a few minutes or until tomatoes have softened slightly but are still intact then add asparagus/mushroom/butter mixture and Parmesan cheese until warmed through.  Add more seasoning to taste.
Transfer to bowls and add avocado on the side with some extra ground black pepper.
Serves: 3