I could live on granola (or toasted muesli as we call it here).  I love how crunchy, sweet and satisfying it is.  I love that you simply pour some milk on it and have a healthy breakfast, or have it with Greek yoghurt and berries, or use it to bake muffins or sprinkle it over stewed fruit or just eat it out of the pack.  I sometimes eat it for dinner when I just don't feel like cooking.
I do buy it quite often (I usually have 2-3 packets of muesli hanging around in my cupboard – I like different flavours).  I mean there's so many well made, lovely toasted mueslis out there now.  Even so, I make this a few times a year because even the healthiest cereals have their share of sugar and things that you have no control over, unlike home made which can have whatever you like in it.  It's also embarrassingly easy to throw together and all you need to do is think up creative ingredients to put in it (Nigella puts chocolate in hers!  Respect).
I'm of the view that granola needs to be a bit sweet, I mean that's the whole point but in saying that, this isn't an overly sweet muesli.  It lasts a couple of weeks in the fridge.  It could last longer for all I know, it rarely lasts a week around here.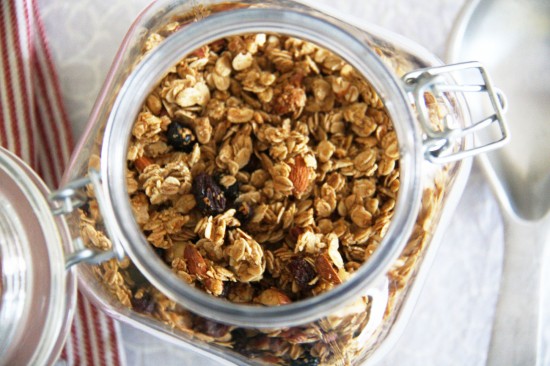 Recipe:
1/3 cup pure maple syrup
1 x 15ml tblspn vanilla extract
1 tspn ground cinnamon, mixed spice or pumpkin spice
1/4 tspn fine salt
45g raw whole almonds
45g pecans
3 cups (240g) wholegrain oats (not instant)
60g of sultanas, raisins, cranberries or dried cherries (remember to add after baking the granola)
Preheat oven to 150 degrees C (around 140 degrees fan forced).  Place baking paper on large, flat oven tray.
Roughly chop nuts, leaving larger pieces.
Place nuts and oats in a bowl and mix briefly.  Whisk maple syrup, vanilla, spices and sea salt until combined, then pour over nuts/oats mixture and mix until combined well.
Spread out on oven tray and bake for 30 minutes.
Break up mix once out of the oven, allow to cool completely, mix through dried fruit then place in sealed container and keep in the fridge if you live in a warm climate, or at room temperature in the cooler months.
Yields: around 10 x 50g servings