This is such a calming, simple, fresh soup recipe by Beth from allrecipes.com.  Well, I mean, soup is calming isn't it?  It's difficult to eat soup in a excited way unlike say, fried chicken or pizza for example where crumbs tend to fly everywhere.  This soup is especially therapeutic though.
This is the type of soup you might crave after you've been ill, if you've had a busy, stressful day or if you just feel like a healthy meal.
It's a very subtle tasting soup, meaning it doesn't hit you in the face with any strong flavours, rather, it has more of a full bodied, smooth flavour adding to the fresh taste of spinach, sweetness of leeks, the wholesome texture of quinoa and creaminess from cannellini beans.
You could use your own home made vegie or chicken stock, I have done this in the past and it did add a whole other dimension to be honest, but for a quick, easy meal it's not absolutely necessary (purists might disagree though and I respect that).  I do use a good bought stock, mine is vegan based and all natural.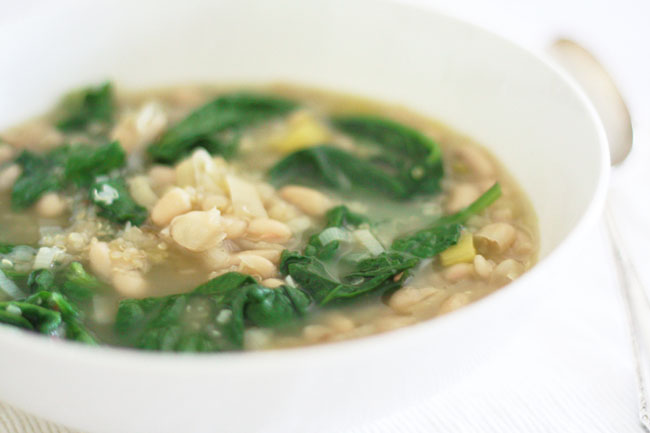 Recipe:
2 x 15ml tblspns extra virgin olive oil
3-4 large leeks, sliced thinly (click on link below on how to prepare leeks)
2 cloves garlic, crushed
2 tspns cumin seeds (crush or leave whole)
4 cups low sodium vegetable or chicken stock, hot
2 400g tins organic cannellini beans, drained and rinsed
2 bay leaves
1/2 cup quinoa
150g baby spinach or baby kale
salt and pepper to taste
Handful pecorino and parmesan cheese, finely grated (optional)
Saute leeks, garlic, cumin seeds and seasoning in olive oil over low-medium heat until softened and fragrant but not browned, about 5-10 minutes, making sure to stir regularly.  Turn heat to high, add the vegie stock, cannellini beans, further seasoning to taste and bay leaves and bring to a boil, then reduce heat to low and stir in the quinoa.  Cover and simmer for 15 minutes.
Take pot off hotplate, remove bay leaves and stir through spinach or kale, placing the lid on to help wilt the greens.  Serve immediately sprinkled with cheese (if using).
This soup keeps in the fridge for a day or two without the cheese (I usually keep some for lunch the next day).
Serves 4
Adapted from: All Recipes