I had some frozen bananas and strawberries in my freezer and thought I'd make a teacake.  Not muffins, not banana bread or loaf cake which I would usually fall back on, but a teacake.
To be honest, when I decided to press the strawberries into the top of the mixture rather than mix them in, I thought the crumble topping would be too much.  But I was committed.  I wanted a teacake and you can't have a proper teacake without some kind of topping.
I loved it.  There isn't a strong banana flavour the way there would be in a banana bread or muffins, however the banana brings a light flavour and moist sweetness to this cake which combined well with the tangy bites of strawberry.  Then there was the sweet, substantial crunch of the topping.  I mean it could be a bit too much, gilding the lily you  might say – you could definitely leave the topping off as it would be great on it's own.  I loved the topping though.   Crumble topping just adds that little extra something.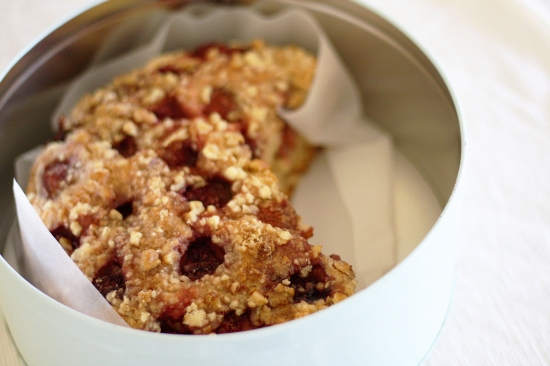 Recipe:
1/2 cup unsalted butter
3/4 cup raw caster sugar
2 large eggs, lightly beaten
3 medium ripe bananas, mashed (I ended up with 3/4 cup)
1 tspn pure vanilla extract
50ml milk
180g strawberries, if small left whole, if larger, halve
2 cups self raising flour
1/2 tspn baking powder
1/2 tspn ground cinnamon
1/4 tspn salt
Topping:
20g unsalted butter, cubed
2 x 20ml tblspns plain flour
20g chopped walnuts
1 x 20ml tblspn brown sugar
Topping:
In a small bowl, rub butter into the flour with your fingertips.  Add the rest of the topping ingredients and combine.  Set aside.  If it's a warm day, place in the fridge so the butter stays cold.
Cake:
Preheat oven to 175 degrees C (I have a fan forced oven – this will depend on your oven).  Place the oven rack in the centre of the oven if not fan forced.  Grease a 20cm spring-form cake tin and line the base with baking paper.
In a medium bowl sift the flour, baking powder, cinnamon and salt.  In a separate bowl, whisk the banana, milk and vanilla extract until combined.
In a large bowl, beat the butter and sugar with electric beaters on medium speed, until pale and creamy, around 2 minutes.  Add eggs and beat further until combined (don't over beat).  Add half the flour mixture and fold in with a wooden spoon.  Add the banana mixture and mix briefly, then add the rest of the flour mixture and fold in until combined.
Pour the mixture into the pie tin; press the strawberries gently into the top of the cake.  Sprinkle the topping over the cake.
Place in the oven and bake for around an hour or until lightly browned, top is firm and skewer inserted into middle of cake comes out clean.  Allow to cool in tin for 8 minutes then transfer to a wire rack.
Serve with cream or custard if you like.  Best consumed on the day it's made.
Serves: 8
Note: make sure cold ingredients are at room temperature before baking