One of the simplest, healthiest and low carb meals.  A mushroom omelet made with sliced sauteed Swiss browns and greens dressed with homemade French dressing.  Sometimes I add slow roasted cherry tomatoes with the mushrooms to fill the omelet and they add a lovely sweetness.
There were around 4 ingredients used for lunch today and it was lovely (all it was missing was a glass of white wine – next time).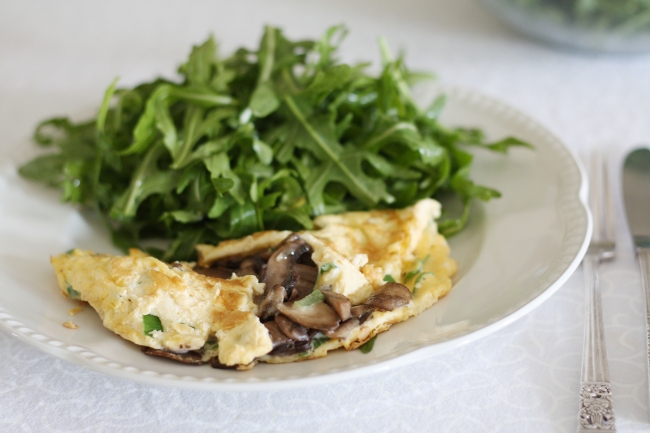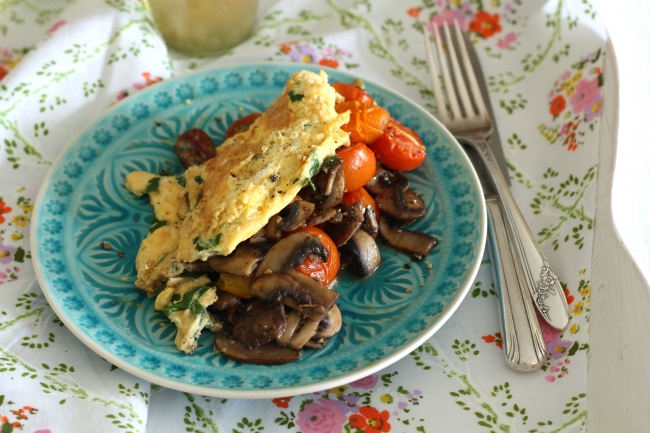 Recipe for mushroom omelet
250g cherry tomatoes
200g brown, white or field mushrooms, sliced (the field ones might have to be halved and quartered before slicing)
4 large eggs
1 20ml tblspn cold water
Small handful green onions, basil and continental parsley, chopped finely
Sea salt and freshly ground black pepper to taste
Unsalted butter
100g washed and dried rocket or mixed lettuce
2 tblspns French dressing
Preheat oven to 150C.  Halve cherry tomatoes and place cut side up on a baking paper lined baking tray.  Roast for 45 minutes, or until slightly caramelised.  Set aside.
Add 3 teaspoons of butter and the mushrooms to a heavy based, medium sized saucepan and sauté over medium/high heat, stirring until all the moisture has evaporated and mushrooms have softened.
Add eggs, water, herbs and seasoning to jug and whisk until combined well.
Add roasted tomatoes to mushroom mixture and toss through.
Meanwhile, in a non-stick, 18cm (across the base) frypan, add a heaped teaspoon of butter and melt over medium/high heat then brush over the entire base of the pan.
Pour in egg mixture so it covers the base entirely and, using a wooden spoon, make swirling motions within the omelet for 20 seconds or so until you can see cooked bits among the raw omelet.  Cook further untouched for 1-2 minutes, or until omelet has cooked around the edges and underneath then spoon mushroom and tomato mixture onto one-half of the omelet.
Turn heat down to low/medium then flip over other side of the omelet onto the vegetables using an egg flip, then continue cooking for a further minute or two until egg is cooked through.
Serve immediately with dressed salad.
Serves: 2