This weekend's baking was a light and fresh lemon coconut loaf.  While we're not quite out of the winter woods yet, I spied lots of little green shoots and a burst of pretty pink flowers on my deck plants this morning which means warmer weather ahead, so I felt like a lemony treat.
I made this loaf with baking margarine and reduced fat milk and you know what?  It was great.  Normally I eschew such fakery (being a fan of continental unsalted butter) but occasionally baking has to take cardiovascular health into consideration.  Besides, I couldn't be bothered going out and buying any (obviously walking to the shops would have helped my cardiovascular health considerably however cake seemed a more appealing option – doesn't it always though?).
This was the first time I used this recipe and I used a standard loaf tin, not taking any notice of the clearly stated tin measurements in the recipe, which resulted in the mixture rising up suddenly then falling over the sides of the tin and onto the floor of the oven.  Just a warning that it's not like a banana bread for example, it's very much a cake which rises considerably (well, Captain Obvious reporting for duty really).  This explains the er …. somewhat diminished appearance.  I could have cried.
Despite all the drama, this cake was delicious so don't be put off.  It's soft and moist with a sweet, lemony, subtle coconut flavour which contrasts really well with the tart icing.  It was great with a cuppa this afternoon.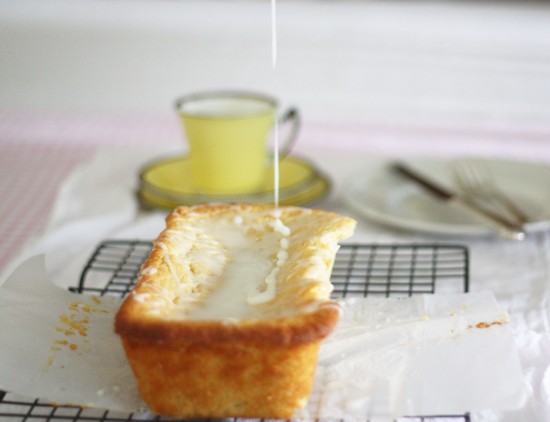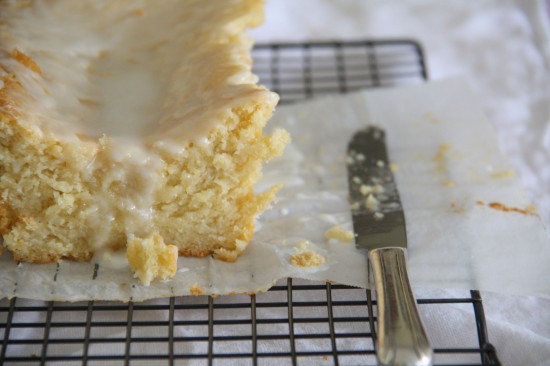 Recipe:
125g unsalted butter or baking margarine, softened at room temperature
1 cup raw caster sugar
1 tspn vanilla essence
1 heaped tspn finely grated lemon zest
2 large eggs (59g weight)
40mls fresh lemon juice, strained
1/3 cup organic desiccated coconut
210ml (3/4 cup plus 1 tablespoon) milk
1 1/2 cups self raising flour, sifted
1/4 tspn salt (don't add if using margarine)
Lemon Icing
1 cup icing sugar, sifted
20-30mls lemon juice, strained
Preheat oven to 170C (160C fan-forced).
Grease a 6cm high, 10cm by 20cm (base measurement) loaf tin and line with baking paper, leaving some hanging over the sides for easier removal later on.
Using an electric mixer on medium speed, beat the butter in a large bowl until creamy, around 1 minute.
Add the sugar, vanilla essence and lemon zest and continue to beat on medium speed for 4-5 minutes, or until mixture is pale and creamy.  Scrape down the sides of the bowl down as needed.  Add eggs one at a time, beating on low speed between each one until combined.
Add lemon juice, coconut, half the milk, half the flour and salt (if using) to the butter mixture and fold in until just combined.  Add the remaining flour and milk and fold until just combined, being careful not to over beat the batter.
Pour batter into prepared pan.  Spread the batter evenly and level the surface with a butter knife or spatula.
Bake for about 55-60 minutes, until the crust is golden in colour and the cake springs back when lightly pressed in the centre and a skewer inserted in the middle comes out clean.
Allow cake to cool in tin on a wire rack for 10 minutes then remove cake from tin to wire rack to cool a bit before icing.
Just before using, add icing sugar to a small bowl, adding lemon juice gradually and stirring briskly with a wooden spoon until smooth but of drizzling consistency.  Drizzle over the slightly cooled cake (it's nice iced while still a bit warm).
Once completely cooled, store cake in an airtight container lined with baking paper at cool room temperature.  If weather is very hot, store in the fridge and leave out at room temperature for ten minutes before serving.
Serves: 8-10