Oh yeah the 90s.
The time I went to uni, backpacked overseas to the US, London and Europe, shared old Queenslanders with countless housemates, partied like it was 1999 and was part of the 18-25 demographic.
In the 90s
People were eating:
Thai food was the food to eat out in Australia.  In honour of the 90s I've knocked together a classic Thai green chicken curry complete with cashew nuts and jasmine rice.  This is still one of my favourite curries (recipe at the end of the post).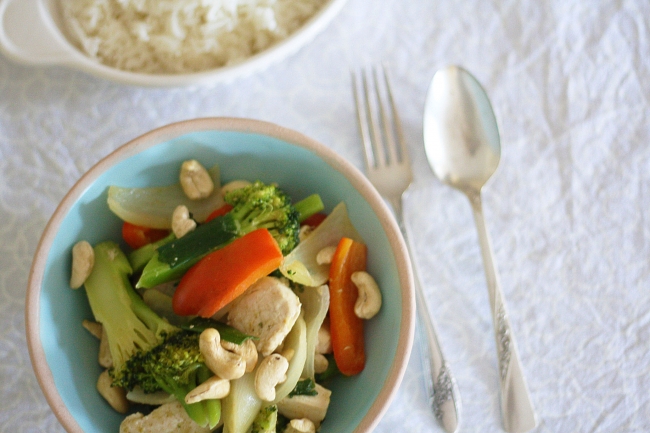 People were at the movies watching Pulp Fiction.   This super cool, cleverly scripted, very violent yet funny movie will always be up there in the top ten best movies of all time for me.  Soundtrack was brilliant too.
Jules: "I'm sorry, did I break your concentration?  I didn't mean to do that.  Please, continue, you were saying something about best intentions. What's the matter?  Oh, you were finished! Well, allow me to retort.  What does Marsellus Wallace look like?"
and Reality Bites.  Being generation x and a uni student moving reluctantly into a career I wasn't sure I ever wanted (wanted to do an arts degree, did nursing, the end), this movie really resonated with me and my friends at the time.  And the term 'slacker' became something we all realised we were …. or wanted to be (hey, it was better than working!).  It was often the reason for some of my friends to continue onto post grad education.
And I coveted Winona's hairstyle in a big way.  Still do actually.  Hated the 'Rachel' but loved this look.
People were drinking bottled water.  Everyone, and I mean everyone drank bottled water.  We'd use the same bottle for ages and fill it up with water from the tap everywhere we went; clubs, festivals, uni, work … now we're told the plastic is carcinogenic.  And we were contributing to landfill and killing the planet.  Seems so obvious now.  Cringe.
and
Soy milk.  It cured everything and even people who weren't lactose intolerant started drinking it.  Now poor little soy milk has experienced a spectacular fall from grace I can't ever remember in the food world (even eggs and pasta were never this controversial although sugar – a whole other story I won't go into right now).  I mean can we eat anything now?  Anyone?  Bueller?
Moral of the story – research is a (necessary) but flawed process.  And eat and drink what you like within moderation as long as you stay healthy.  There will always be a research study somewhere which will support it.  Probably.
We were listening/dancing to grunge and raves.  Oh how I miss wearing glitter and trainers and dancing all night.
And I'll always remember going to uni the day after Kurt died and we students were wearing our docs, ripped jeans and flannies in his honor.  Or it could be that we just dressed like that anyway.
Don't judge me.
People were wearing doc martens. I love my docs!  When I was 18 I had vintage classic black 8 hole boots and painted rainbows and flowers on them.  I still wear docs but not the boots anymore sadly, just the black lace up.  They make the best nursing shoes but I was always getting into trouble for wearing them.
and watching Seinfeld.  I can't imagine a world without this show ….
Also ER.  The show for everyone in health care in the 90s.
We were talking about Dolly.   We were all worried they were going to start cloning humans and used to talk about the ethics of that in our uni tutes.  And experienced the world wide web for the first time ever.  Remember chatting to random people from all over the world just for the hell of it?  I used to love doing that.  Even the weirdos.
We were reading He Died with a Felafel in His Hand;  The quintessential novel for the 20 something housemate in the 90s.  This hilarious, tongue-in-cheek and very relatable novel was set in numerous share households in Australia and is an account by the author of his experiences.  "John Birmingham has lived with eighty-nine people and kept notes on all of them. This is their story."
I think this book resonated with most of us in share accommodation at the time.
Bachelor Kisses; I really related to Nick's books in the 90s.  This novel, about a young doctor working at a Brisbane hospital and his messy love life, was funny and relevant to the time and to me.  I was a young graduate nurse when I first read this novel and recognised the streets, landmarks, hospitals, restaurants and 7-11s the characters frequented in his novels.
And Praise; An Australian novel set in the town I live in, Brisbane, and the semi autobiographical story so true of many disaffected, aimless 20 somethings in the 90s.  In Australia at that time, the dole was easy to get, drugs were easier to get, the unemployment rate was high, Australia was in a recession and younger people were aimless about their careers and future.  Although I couldn't relate to it particularly, I found it a really interesting, dark and somewhat graphic novel.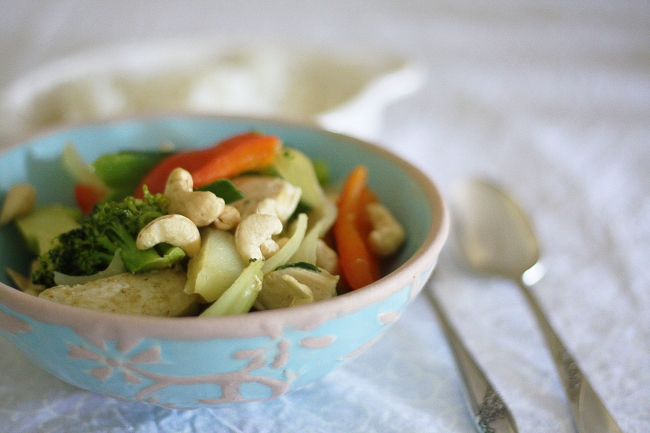 Recipe for Thai green chicken curry:
20mls peanut oil
3 x 20ml tblspns good green curry paste
500g chicken breast, sliced into bite sized pieces
1 medium onion, sliced into bite sized pieces
200g broccoli, sliced into small pieces or 200g green beans, halved (depending on season)
1 red capsicum, sliced
1-2 20ml tblspns palm or raw sugar
2 tspns fish sauce
190mls coconut milk
A good squeeze lime juice
Handful Thai basil
3 spring onions (the green part), sliced on diagonal
Handful cashews
Steamed Jasmine rice
Heat wok or large pan on medium-high and quickly add oil and curry paste, stirring rapidly until fragrant (be prepared for a bit of eye watering, it can get quite strong – I sometimes put the lid on and move the wok around).
Toss in chicken pieces and onion, sauteing until chicken is browned but not completely cooked through.  Add broccoli for 2-3 minutes, then capsicum, tossing quickly.  I put the lid back on here to steam the vegies a bit as the broccoli can take a few minutes longer to become tender.
Add sugar and fish sauce and simmer for another couple of minutes; then add coconut milk, simmering for another minute or so until chicken is cooked through.  Take wok off heat and immediately add basil, lime juice, spring onions and cashew nuts and stir through.
Serve with jasmine rice.
Serves: 4