Pesto is such a fresh, savoury and nutty dish – it's the perfect thing to keep in the fridge for a quick sauce for pasta or a piece of grilled chicken or fish, to mix in with mashed potatoes or to use as an impromptu dip.  I even sent Ant off to work the other morning with a chicken and pesto sandwich, he said it tasted great.  In short, it's a very flexible foodie thing.
I thought instead of using basil, which isn't around at the moment, I'd use a bunch of gorgeous, frilly, green and healthy kale (I just love kale, it's such a pretty vegetable) and instead of pine nuts I added some toasted walnuts.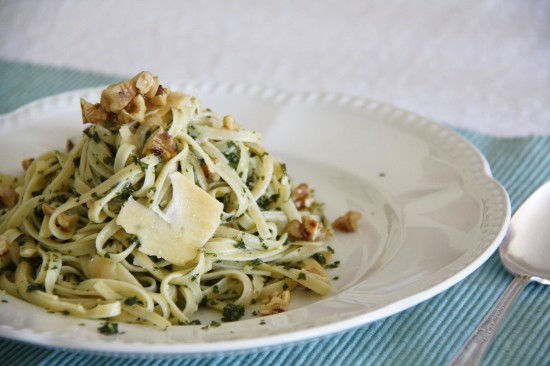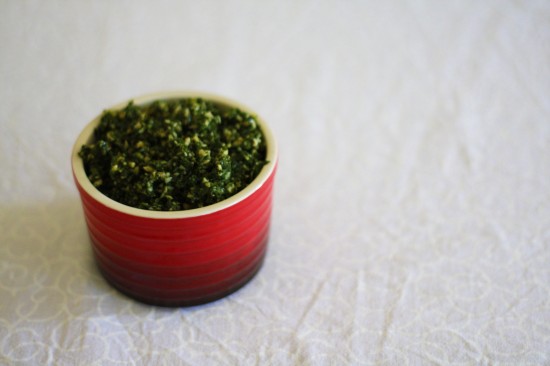 Recipe:
150-200g Kale leaves, washed (a decent sized bunch) OR 200g baby kale leaves
1/4 cup toasted walnuts
Freshly ground pepper and sea salt to taste
2 garlic cloves
1/3 cup extra virgin olive oil (you might need more)
60g parmesan cheese, diced
Squeeze lemon juice (optional)
If using larger kale leaves, bring some water to the boil in the bottom of a large saucepan and add kale.  Simmer slowly for around 10 minutes or until tender but still green.  Drain and rinse with cold water straight away.  Squeeze kale dry of any liquid.
If using baby kale, you don't need to cook it beforehand.
Add walnuts, kale, seasoning and garlic to food processor and process on medium speed, while adding olive oil – add a bit more if it needs it.  Add parmesan cheese and pulse until combined.
Add small squeeze of lemon juice and mix through.
For pasta:
Boil required amount of pasta in salted water until al dente, drain it, retaining some of the pasta water; over a low heat place the pasta back in the pan with enough pesto to taste (I like quite a lot) and enough pasta water to thin it out a bit, until sauce is warmed through.  I usually add a splash of extra virgin olive oil here too.
Place into bowls, adding some shaved parmesan and toasted, chopped walnuts on top.
Pesto recipe serves: 4-6 depending on size of serving