I received this in the mail the other day and couldn't wait to try something out of it.  I felt it was time for a healthy breakfast after the sugar fueled, indulgent days I'd been having and let me tell you, everything in this is good for you and, like Sophie says, has a very milkshake appeal about it.
Sadly I didn't have any blueberries so I substituted with extra strawberries.  Just lovely and perfect for a sunny weekend.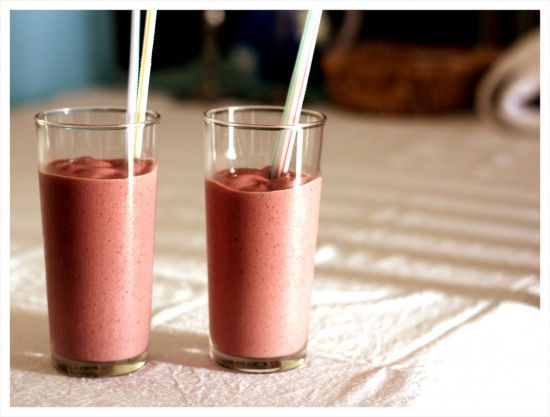 Recipe:
2 cups strawberries, fresh or frozen
2 x 20ml tblspns Milo
1 cup organic soy milk or almond milk
agave syrup to taste
1 x 20ml tblspn natural peanut butter
Whisk everything in a blender, adding a bit more milk to thin it out if necessary.  If using frozen berries, the smoothie will be much thicker; if using fresh, it will have more of a milkshake quality.
Serves 1 large or 2 smaller servings
Adapted from:  Miss Dahl's Voluptuous Delights