I, like a lot of people, used to make egg sandwiches with mayonnaise.  Nothing wrong with that!  Eggs are healthy, full of energy-giving nutrition and protein and it's a handy lunch to take to work.
Still, if you're trying to eat food as close to nature as possible, this recipe from Limes and Lycopene is the way to go.
Despite being a sometimes fan of organic mayonnaise and it's creamy texture, the combination of the olive oil and mustard was a delicious, far superior replacement as it doesn't have that too sweet flavour mayo has.  It's still creamy and in combination with the fresh herbs, made a satisfying, rustic and fresh lunch today.  Do use a good bread, and although nutritionists might disagree, I always feel continental unsalted butter makes bread (or anything really) taste even better but this is totally optional.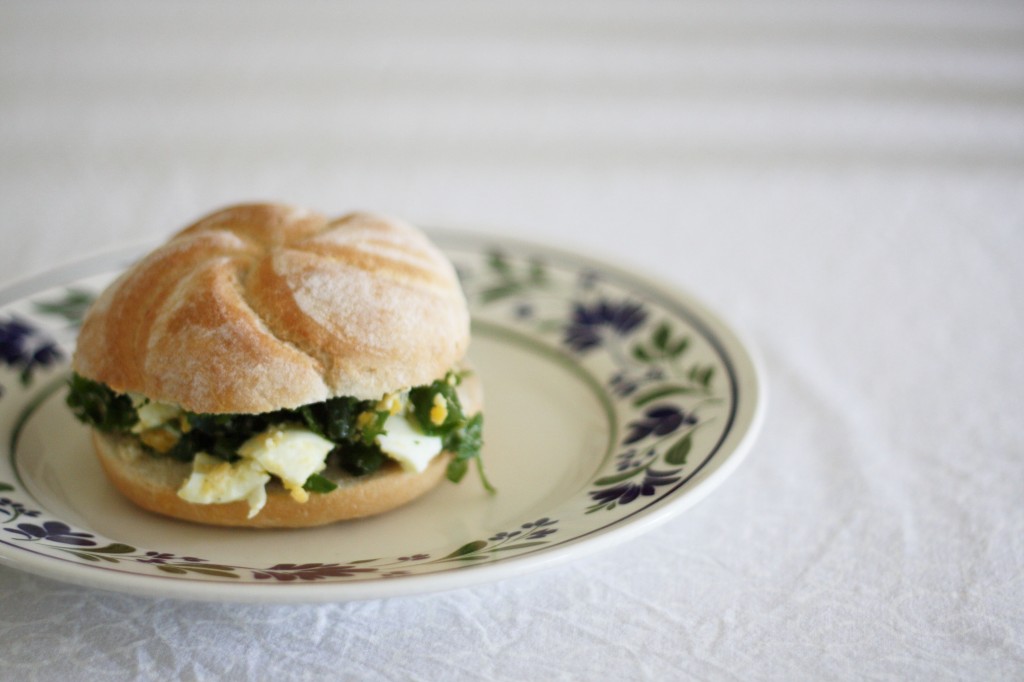 Recipe:
2 slices organic wholemeal bread, pita bread, wrap or crusty roll, toasted, untoasted; buttered or not, whichever is your preference
1 just hard boiled free range egg
1 tspn Dijon mustard
1 tspn extra virgin olive oil
1 tblspn each finely diced green parts of spring onion, fresh continental parsley and basil
Handful salad greens (I use mixed gourmet salad leaves, baby spinach, rocket, whatever's available and nice)
Cracked black pepper and sea salt
Optional:  instead of salad greens I sometimes use finely diced celery or Lebanese cucumber
Mash egg roughly with a fork; then mix in the mustard, oil and herbs, adding seasoning if desired.  Place filling in between bread with salad or vegetables.
Serves: 1
Adapted from: Limes and Lycopene