I made a south west style salad tonight from blogger Jacqueline at tinned tomatoes.  I added corn kernels because I had some fresh ones I'd frozen previously which I wanted to use, I also only had the French puy lentils, and tweaked the amounts a bit to suit 3 people.  This is Jacqueline's own recipe and I'm really pleased I found it as it includes so many of my favourite ingredients.
This is a lovely recipe, very fresh, with a slight chilli hit and sweet flavour from the balsamic vinegar.  It's so healthy I can't even believe it; just about every single ingredient in this salad is a super food – I'm just full of energy after eating it and was feeling quite smug at how health conscious I was.
Then I ruined it by having a hot chocolate and blueberry scone later on.  oops.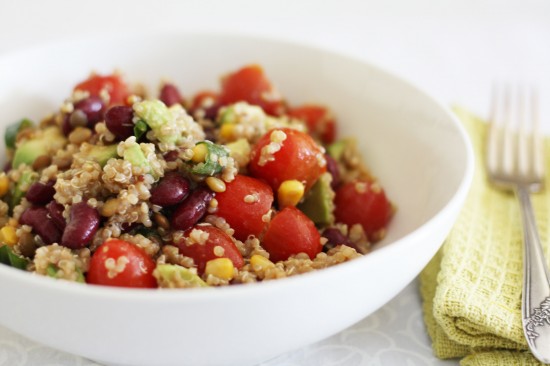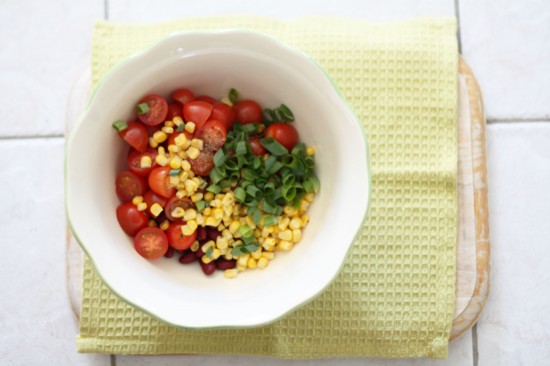 Recipe:
55g raw green or puy lentils, rinsed
80g raw quinoa, rinsed (just under 1/2 cup)
400g can kidney beans, drained and rinsed
2 large vine ripened tomatoes, diced or 250g cherry tomatoes, halved
1 avocado, diced
60g corn kernels, blanched quickly
1 large handful coriander or continental parsley, chopped
2 spring onions, green parts, sliced thinly
Dressing:
Juice of 1 lime
4 x 15ml tblspns extra virgin olive oil
2 x 15ml tblspns balsamic vinegar
1 x 15ml tblspn wholegrain mustard
1 tspn chilli flakes
Freshly ground black pepper & sea salt
Cook the lentils and quinoa according to the instructions on the packets (you can do this ahead of time and store in the fridge).  Drain the cooked lentils and allow to cool.  Fluff the quinoa with a fork and allow to cool.
Drizzle a bit of the lime juice over the avocado before adding to the salad to prevent it from browning.  Add the dressing ingredients to a jar and shake until combined.  Toss the rest of the salad ingredients together, season well then add the avocado and dressing and fold together gently until combined.
Serves: 3 large servings
Adapted from: tinned tomatoes