I know, I know.  Big deal, lettuce, avocado and dressing.  But do you know what?  This is what I felt like for lunch today – a simple salad made with fresh organic ingredients and a classic home made French dressing.  Plus I wanted to share so you could all see how healthy I'm being (I don't eat sweets all day honestly).
Although it might not seem substantial, it truly was just right for me today and like a lot of low carb meals, it seemed strangely satisfying (especially for someone like me who lives for carbs).  And think of those good fats!  I swear by eating a diet fairly high in good fat, it gives you lovely soft skin and hair and is so beneficial for your health generally.
Trivia for the day:  when I was growing up in northern NSW one of our neighbours owned an avocado farm and my dog, Goldie, used to munch on bits of avocado whenever she could and she had a very shiny coat; my mother used to say it was because of the avocado.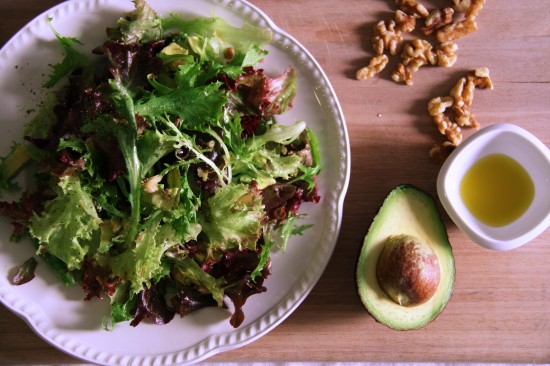 Recipe:
One small organic curly lettuce, or 50-100g mixed gourmet lettuce leaves, washed and spun dried
1/2 medium organic avocado, diced roughly (or as much as you like)
20g walnuts, toasted and chopped
20-30mls French dressing
Freshly ground sea salt and black pepper
Toss lettuce with dressing, pouring in enough to coat the lettuce but not to drown it.  Gently combine avocado pieces with lettuce.  Sprinkle walnuts over the top.  Sprinkle over a bit of sea salt and black pepper if you like.
Dressing:
20mls apple cider vinegar or white wine vinegar
40mls extra virgin olive oil
1/2 tspn Dijon mustard
Pinch raw caster sugar
Shake ingredients in small jar to combine or whisk in a small bowl.
Note:  If you wish to keep the dressing in the fridge for longer than a couple of hours, use 1/2 grapeseed or light olive oil and 1/2 extra virgin olive oil as extra virgin tends to solidify in the fridge.