So here's a lovely, classic banana bread with that moist, soft texture and banana flavour we all love (I know I haven't exactly invented the wheel what with posting approximately the 30 millionth version of banana bread but everyone thinks their own is the best).
Also, why must the surface of my loaf cakes crack?  Every.time.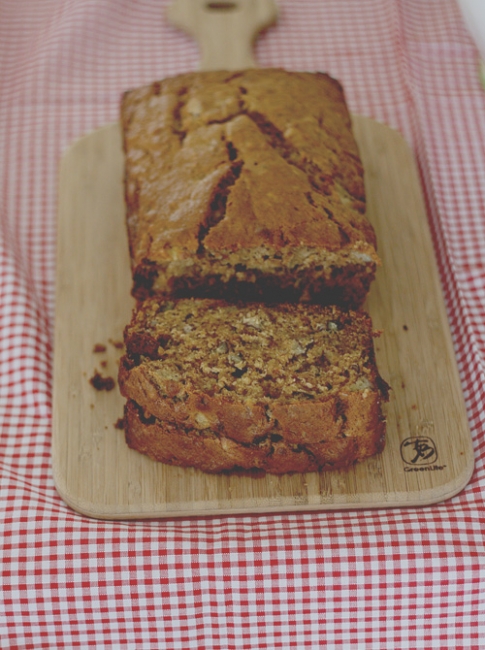 Recipe:
1 3/4 cups plain flour
1/2 tspn ground cinnamon
1/2 tspn mixed spice
1/4 tspn ground nutmeg
1 1/4 tspns baking powder
3/4 tspn bicarb of soda
A couple of grindings of sea salt
1/2 cup (120g) unsalted butter, melted & cooled
1 cup brown sugar, packed
1 tspn vanilla extract
2 large eggs
3 medium sized, very ripe bananas, peeled and mashed (around 540g of bananas)
Preheat oven to 180C.  Grease a large loaf tin and line base and sides with baking paper.
Sift flour, spices, raising agents and salt into a bowl and set aside.
Add butter, brown sugar, vanilla, eggs and bananas to another bowl or jug and whisk until combined.  Add this to the dry mixture and fold through until combined – don't over-beat.
Pour into prepared loaf tin, level the top and bake for 45-50 minutes, or until light golden brown on the top and a skewer inserted into the middle comes out clean.
Leave in tin to cool for 8 minutes then turn out onto wire rack to cool.
Serves: 8-10
Note:  freezes well