I purchased a friand tin on impulse the other day so of course I had to give it a test run.  I've never baked friands before, although I've had them quite often in cafes with a coffee.
I loved the soft texture inside these easy-to-make little cakes, with crisp edges and a burst of berries.
So if you have a few egg whites in the freezer from a previous recipe, or you're willing to do a bit of egg separating, you won't be disappointed with these lovely little coffee shop treats (and you could always use those extra egg yolks for home made mayonnaise or custard).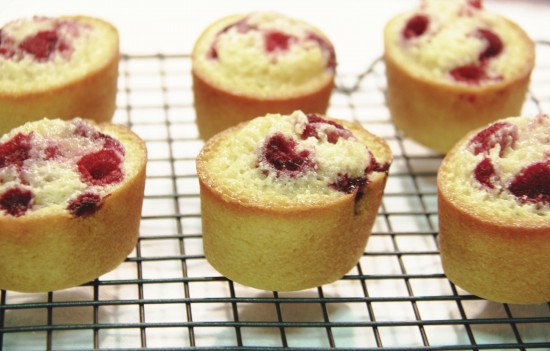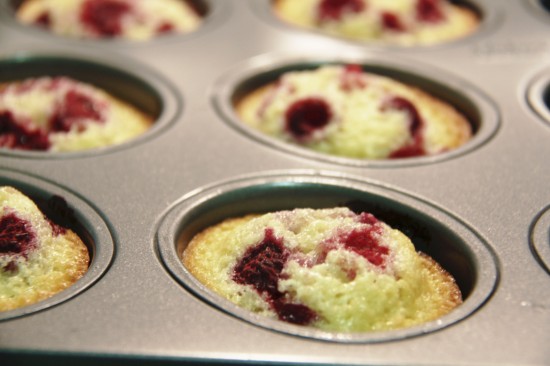 Recipe:
100g unsalted butter
4 large egg whites
45g plain flour
140g (1 cup) pure icing sugar
85g (2/3 cup, lightly pressed into the cup with the back of a spoon) almond meal
40g raspberries (or other berries)
Preheat oven to 180C.
Grease six cups of a 12 cup non-stick friand tin.  If you don't have a friand tin, you could use 6 cups from a 12 cup muffin tin.
Melt butter in a small saucepan then set aside to cool to lukewarm.  In a medium sized glass bowl, whisk egg whites until foamy, for about 30 to 35 seconds.  Sift flour, icing sugar and almond meal into the bowl with the egg whites and stir gently until just combined, then add cooled butter and stir until just combined.
Pour batter into friand tins then place a few raspberries into each tin, pressing down lightly to disperse through the batter gently.  Bake for 25 minutes or until the tops are light golden brown and the tops spring back when lightly pressed.
Leave friands to cool in tins for 5-8 minutes then, use a butter knife to run gently around the sides of each friand and place on a cooling rack.
Once completely cooled, store friands in an airtight container at room temperature or in the fridge.  These freeze quite well – I wait for them to cool completely, then wrap individually in plastic wrap and store in the freezer.  Defrost in the fridge then wrap in foil and heat in 180C oven for 5-10 minutes.
Makes: 6
Recipe adapted from: Exclusively Food