I know everyone has their own way of making pasta sauce, and there's no wrong or right way but I thought I'd post my own recipe, which I make regularly and freeze.
I mean, there's nothing wrong with tomato sauce in a jar, and god knows I use it when I'm whipping up a quick lasagne, but there's nothing quite like freshly made, aromatic marinara sauce on a plate of steaming hot linguine, with toasted pine nuts and shaved Parmesan sprinkled on top.  With a glass of wine.  Sitting in front of the TV after a long day.  It's therapeutic and some days you just need a meal like that.
I use fresh tomatoes or a combination of fresh and canned, depending on the season.  It's proper peasant food; spicy, fresh and rich.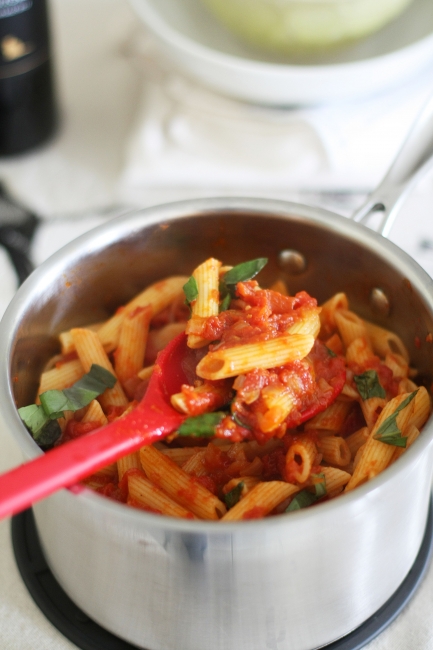 Recipe:
30mls extra virgin olive oil
1 medium onion, peeled and diced
2-3 cloves crushed fresh garlic
Small pinch chilli flakes or 1 fresh red chilli, finely diced and de-seeded
1 x 400g tin diced tomatoes + 800g roma or vine ripened tomatoes; OR 2 x 400g tins diced tomatoes
2 level tspns raw sugar
1 vegetable stock cube, diced (preferably one that's reduced sodium and vegetarian based)
Cracked black pepper + freshly ground sea salt
Handful fresh sweet basil, torn into large shreds
To serve:
360g dried pasta
40g pine nuts, toasted
40g Parmesan cheese, finely grated or shaved
If using fresh tomatoes, find a medium sized bowl.  Halve the tomatoes and gently squeeze each half over the bowl, removing the seeds and most of the liquid.  Chop the tomatoes roughly.
Sauté the onion, garlic and chili in the olive oil, covered on a low to medium heat, until translucent and slightly caramelised.
Add the fresh tomatoes, tinned tomatoes, sugar, crumbled stock cube and seasoning (you won't need much salt).  Bring to a high simmer then reduce heat to low/medium.  Simmer gently for around 1 to 1 1/2 hours, stirring regularly – I initially place the lid on for 10-15 minutes or so to break down the tomatoes, then remove the lid and use a splatter guard over the top and simmer until the sauce reduces and thickens considerably.
Meanwhile cook your pasta in boiling, lightly salted water.  Drain well, add back to the pan and add the finished pasta sauce and stir through over low heat.
Add basil right at the end after you take the pan off the hotplate.  Leave some aside to sprinkle over the top before serving with toasted pine nuts and grated parmesan cheese.
Recipe freezes well.
Serves 4