I often make sweet baked loaves, in fact, they're a staple in our freezer for morning teas and things.
But the other day I thought about making a savoury loaf, a type of quick bread, something spicy and warm to have on cold mornings with butter or with a bowl of steamy hot soup.  So because I've been cooking with pumpkin a lot lately (2 more recipes coming up), I whipped up a roast pumpkin loaf with chilli, a few spices and a decent hit of rosemary.  Soft yet fairly dense and a beautifully warm colour, I loved the spicy, savoury flavour with a hint of sweetness and the texture is substantial enough to have for a quick lunch with butter on it's own.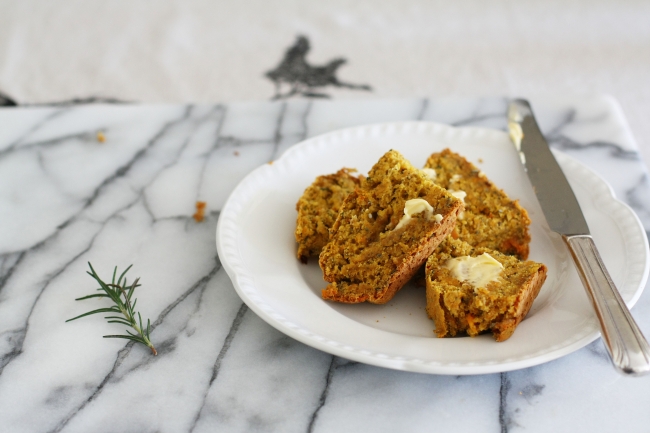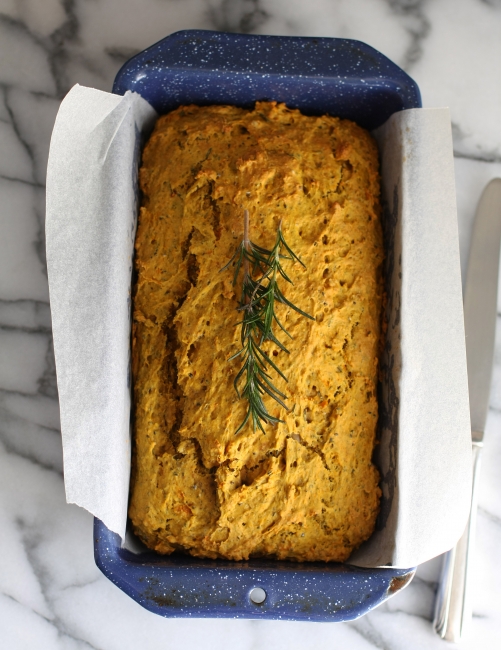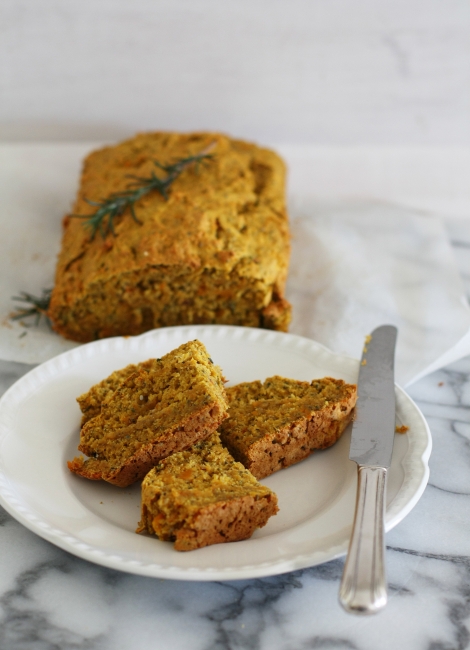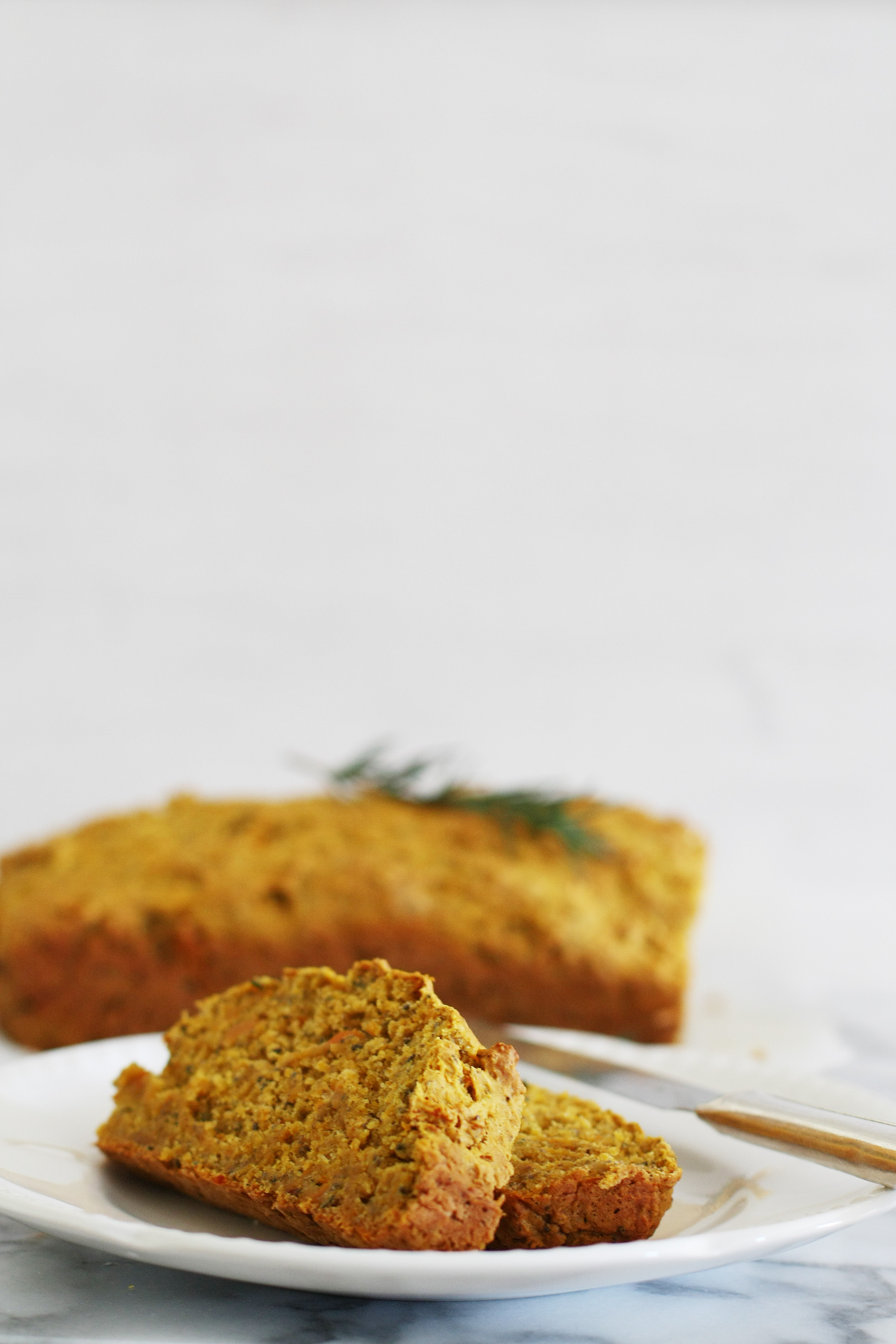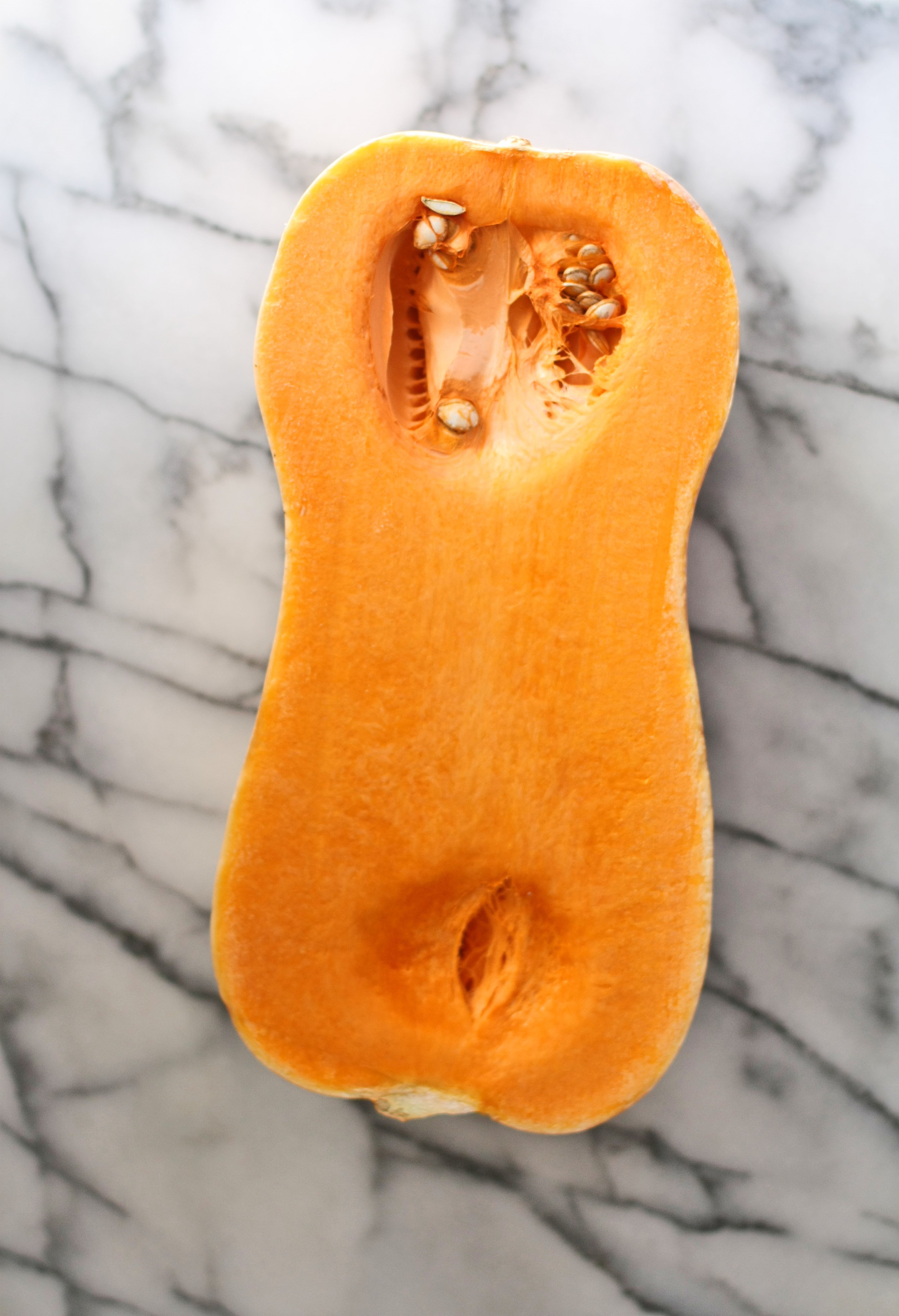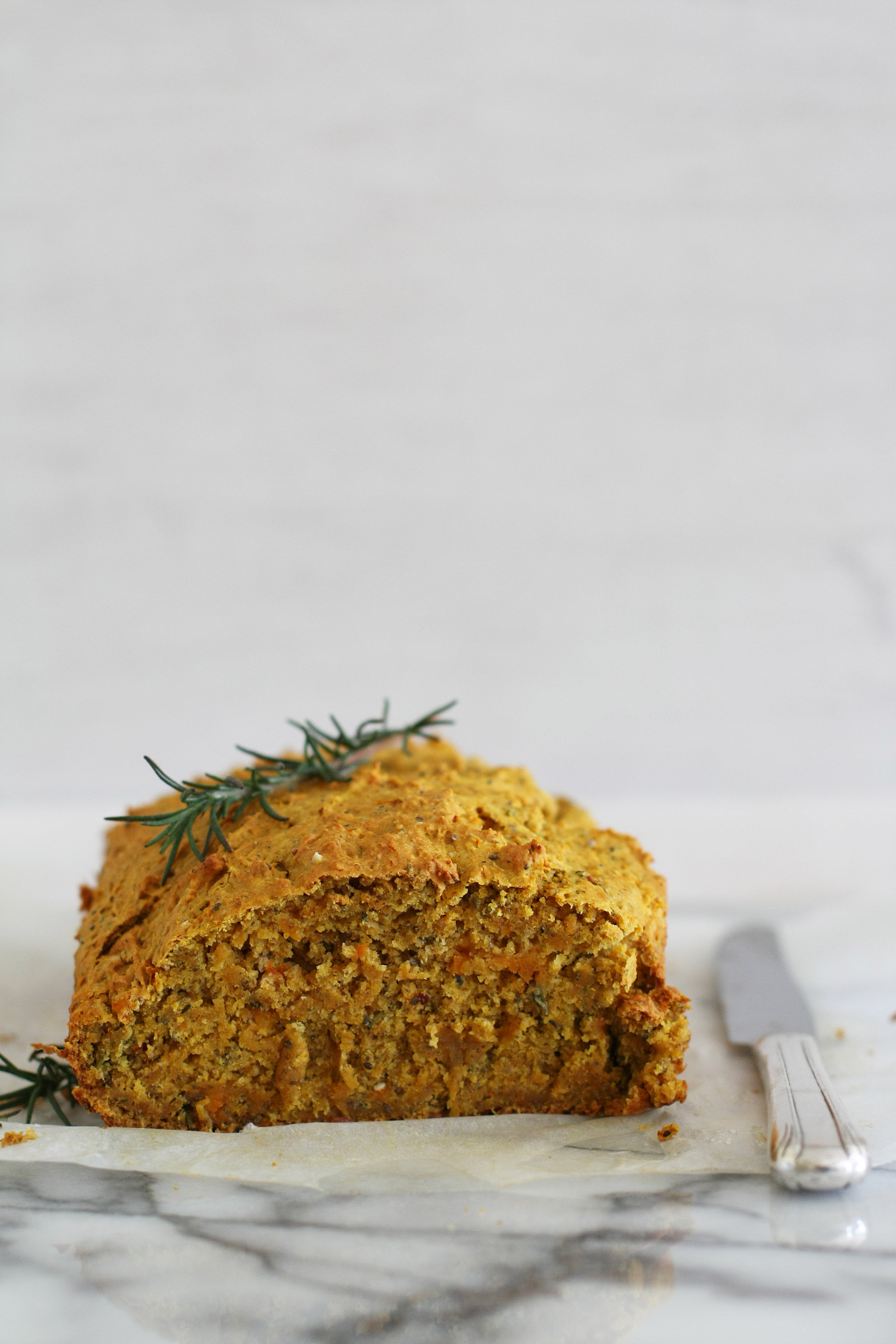 Recipe for savoury pumpkin loaf:
450g peeled, diced butternut pumpkin
Grapeseed oil
1 cup oat or almond milk
1 tspn white wine vinegar
1 3/4 cups plain flour
1 tspn baking powder
1 tspn bicarbonate of soda
1/4 cup ground chia or flax seeds
Freshly ground black pepper & sea salt
1 tblspn fresh rosemary leaves, finely diced
Pinch chilli flakes (to taste)
1 tspn ground cumin
1/4 tspn ground coriander
2 x 15ml tblspns grapeseed oil
1 x 15ml tblspn tahini (at room temp)
1 x 20ml tblspn maple syrup
Preheat oven to 200C.  Line a baking tray with baking paper.  Place pumpkin pieces on in one layer and drizzle with a light coating of oil and season.  Roast pumpkin for around 40 minutes or until caramelised and softened.  Mash well and set aside to cool (I cooked and mashed mine the day before and stored it in the fridge, then kept it out at room temperature for half an hour before using).
Reduce oven to 180C.  Grease a large loaf tin and line base and sides with baking paper, making sure to leave some hanging over the sides for easier removal of loaf after baking.
Add vinegar to a measuring up then fill to the top with milk.  Allow to sit for 5-10 minutes until curdled.
Meanwhile, sift flour and raising agents into a large bowl.  Add chia seeds, seasoning, rosemary leaves and spices and whisk to combine.
Add milk mixture, oil, tahini, maple syrup and mashed pumpkin to another large mixing bowl.  Use a whisk to beat mixture until the pumpkin has dispersed evenly and everything's combined well.  Add dry ingredients to the wet ingredients and use a wooden spoon to fold through gently, until combined (don't over-beat).
Spoon mixture into prepared tin, level the top and bake for 30 minutes, or until light golden brown on top and a skewer inserted into the middle comes out clean.
This is lovely warm out of the oven as a savoury snack with unsalted butter or vegan margarine and is also a great accompaniment to soups and casseroles.
Serves: 10-12
Note: this loaf freezes well; once cooled, slice loaf then wrap well in plastic wrap and freeze for up to a month.  Defrost slices wrapped in plastic wrap in the fridge or at room temperature and serve with butter.